Ferrari (theme)
From Brickipedia, the LEGO Wiki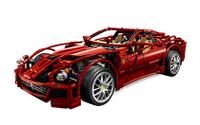 Ferrari is a subtheme of Racers theme introduced since 2004. It is a theme based on the real Ferrari cars with different scales. TECHNIC cars and System cars are included in this theme. Sets involving Ferrari racing events are included as well. From 2008, tiny turbo scale Ferrari sets were released.
However, there were Ferrari LEGO products before 2004. Early in 1997, a Model Team promotional set with Shell (2556 Ferrari Formula 1 Racing Car) was released in 1997. In 1999, 2 promotional sets with Shell (1253, 1255) included Ferrari cars as well.
Ferrari is also a theme of DUPLO as well. Two DUPLO Ferrari sets were introduced in 2004.
Image
#
Set
Pieces
Figures
Price
Released
1253 
Shell Race Car Transporter 
102 
1  
$6.25 
1999 
1256 
Shell Service Station 
144 
2  
 
1999 
2556 
Ferrari Formula 1 Racing Car 
580 
  
 
1997 
30190 
Ferrari 150 Italia 
33 
  
 
August 1, 2012 (Hong Kong and Macau)
September 10, 2012 (Singapore)
October 10, 2012 (UK)
June 3, 2013 (Czech Reublic)
June 3, 2013 (Slovakia) 
30191 
Scuderia Ferrari Truck 
41 
  
 
August 1, 2012 (HK and Macau)
September 24, 2012 (Singapore),
November 29, 2012 (Malaysia)
June 3, 2013 (Czech Reublic)
June 3, 2013 (Slovak Reublic) 
30192 
F40 
48 
  
 
August 21, 2012 (HK and Macau)
October 8, 2012 (Singapore)
June 3, 2013 (Czech Reublic)
June 3, 2013 (Slovak Reublic) 
30193 
250 GT Berlinetta 
25 
  
 
August 21, 2012 (HK and Macau)
August 27, 2012 (Singapore)
June 3, 2013 (Czech Reublic)
June 3, 2013 (Slovak Reublic) 
30194 
458 Italia 
33 
  
 
September 10, 2012 (HK and Macau)
October 22, 2012 (Singapore)
June 3, 2013 (Czech Reublic)
June 3, 2013 (Slovak Reublic) 
30195 
FXX 
51 
  
 
September 10, 2012 (HK and Macau)
November 5, 2012 (Singapore)
June 3, 2013 (Czech Reublic)
June 3, 2013 (Slovak Reublic) 
30196 
Shell F1 Team 
34 
Ferrari Race Mechanic, Ferrari Refueling Engineer, Shell Track Scientist  
 
September 10, 2012 
4693 
Ferrari F1 Race Car 
5 
1  
$9.99 
2004 
4694 
Ferrari F1 Racing Team 
39 
2 DUPLO Figures  
$9.99 
2004 
8123 
Ferrari F1 Racers 
139 
  
 
December 28, 2008 (US and UK) 
8142 
Ferrari 248 F1 1:24 
167 
1  
$19.99 
2007 
8143 
Ferrari 1:17 F430 Challenge 
690 
0  
$49.99 
2007 
8144 
Ferrari 248 F1 Team 
726 
Pit Crew Member (Two), 

Ferrari Engineers (Three),  Ferrari Record Keeper,  Felipe Massa, 

Kimi Raikkonen  
$69.99 
2007 
8145 
Ferrari 599 GTB Fiorano 1:10 
1327 
  
$109.99 
2007 
8153 
Ferrari F1 Truck 
270 
  
$19.99 
2008 
8155 
Ferrari F1 Pit 
482 
  
$39.99 / €39.99 
2008 
8156 
Ferrari FXX 1:17 
626 
  
$49.99 
2008 
8157 
Ferrari F1 1:9 
997 
  
$89.99 / €99.99 
2008 
8168 
Ferrari Victory 
202 
3  
$19.99 
2009 
8185 
Ferrari Truck 
534 
5  
$79.99 
2009 
8362 
Ferrari F1 Racer 1:24 Scale 
112 
Driver  
$14.99 
2004 
8375 
Ferrari F1 Pit Set 
206 
Pit Crew Member (6), Ferrari Racer  
$30.00 
2004 
8386 
Ferrari F1 Racer 1:10 Scale 
719 
  
$69.99 
2004 
8389 
M. Schumacher and R. Barrichello 
22 
Michael Schumacher, Rubens Barrichello  
$6.99 
2004 
8652 
Enzo Ferrari 1:17 
477 
  
$39.99 
2005 
8653 
Enzo Ferrari 1:10 
1360 
  
$99.99 
2005 
8654 
Scuderia Ferrari Truck 
813 
Pit Crew Member (5), Ferrari Racer  
$79.99 
2005 
8671 
Ferrari 430 Spider 1:17 
559 
  
$39.99 
2006 
8672 
Ferrari Finish Line 
573 
10  
$59.99 
2006 
8673 
Ferrari F1 Fuel Stop 
189 
5  
$19.99 
2006 
8674 
Ferrari F1 Racer 1:8 
1246 
  
$139.99 
2006 
Sets involving Ferrari
[
edit
]