Flag
From Brickipedia, the LEGO Wiki
Too many red links!
This article has an excess of red links in it.
Attention is requested to create new articles from these links. Please remove this message when finished.
A flag is a design used as a symbol, signal or decoration.
Types of flag
[
edit
]
National flags
[
edit
]
LEGO have released sets containing flags of countries throughout the world. Many had slight variants on the flag-poles, such as ridges.
These were usually supplementary sets released in the 1960s or 1970s:
These sets consisted of flagpoles (Part 3596). Most were printed, though sets 939 and 940 used sticker sheets.

The following countries flags were released:
Use in sets
[
edit
]
Outside of the accessory and service packs, some national flags were found in standard sets. The US flag appeared on a coast guard station, fire station, moon landing scene, classroom and in a cowboy base. The British flag is hanging from the castle in the British version of set 1592, while in the Dutch version of the set, the flag of the Netherlands is included. In the Canadian version of set 575, a Canadian flag is included. 2x2 sticker squares appear in 8672 Ferrari Finish Line, with flags of Brazil, Germany and Italy above the finishing podium. It also appears in the Cars set 8423 World Grand Prix Racing Rivalry.
LEGO flag
[
edit
]
Multiple flags for the LEGO Group have been released. The first was based on the 1956 logo, a red ellipse with "LEGO" in white; on top of a white field. This was first released in 1957 and appeared in seven sets (00-1, 242, 242.1, 242B, 242I, 442A and 1242)
Real-world examples
[
edit
]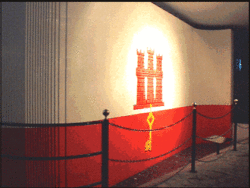 In Gibraltar, the John Mackintosh Hall has a flag of the territory made entirely out of LEGO. It is around 4 meters high and 8 meters long and was at one point the largest LEGO flag made, with 393,857 pieces.[1]
References
[
edit
]