Houses
From Brickipedia, the LEGO Wiki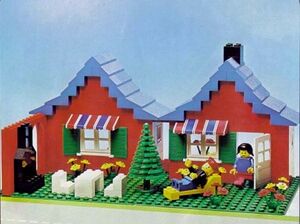 Houses are one of the recurring subjects featured in Town. Most LEGO sets that featured private houses were released during the 1980s. The 1990s saw only the release of a small holiday home and a mountain cottage. After 1993 no LEGO Town sets that featured houses were released.
Interestingly none of the houses contained a bathroom. Most of them didn't even have bedrooms. 6372 Town House was the only house that had a second floor. To make up for this apparent lack of accommodation, most sets were dubbed as holiday or weekend homes. Although this doesn't explain everything.
The last Town set depicting a residencial home was 6552 Rocky River Retreat released in 1993. Since then there were no new sets of Town or related themes, like City with this subject.
In 2004 a Designer set containing a LEGO model of a house has been released. Although the set did not include any minifigures, it was built in a minifigure-compatible scale. Since 2007 models like this are a regular installment in the Creator theme with at least one house set released in every year. More recent ones have started including minifigures again.
Related Sets
[
edit
]
Creator Sets
[
edit
]
City Sets
[
edit
]