Master Builder Academy
From Brickipedia, the LEGO Wiki
This article needs to be built up.
This article lacks substantial content. You can help Brickipedia by "adding on some bricks."
In other words, it needs to be expanded. After you expand the article, please remove the "Expand" template. Further information might be found on the talk page.
Master Builder Academy

Years:

2011-present

Related themes:
LEGO Master Builder Academy is a series of kits that are released to help LEGO fans learn new techniques that Master Builders use. It is currently available in the USA, but is expected to be released across the world within the next year if it is successful. "MBA" is to be the replacement for the BrickMaster magazine. Master Builder Academy is sold in a series of 6 Kits (more will be released soon), which each include a building instruction handbook full of tips on the building techniques featured in the kit, and the bricks needed to build the models within it. With every new "level" of the series, a new minifigure is included with the first kit of that level. In every kit new accessories for the minifigure are included, which outfit the minifigure to the theme of the kit. Also, in each kit, new techniques or skills are featured for making LEGO models more stable and stylish.
LEGO Club Preview
[
edit
]
A description of LEGO MBA was included on the LEGO Club Website:

This is a description taken from LEGO.com. Please do not modify it. The LEGO® Master Builder Academy is Coming!
Hey out there, LEGO Club and LEGO BrickMaster members! Here at The LEGO Group, we're busy getting ready to launch something new that we think you'll really like: the LEGO Master Builder Academy!
The mission of the LEGO Master Builder Academy program is simple: "Take Your Building to the Next Level". And what do we mean by that? We want to help you use the expertise and official techniques of the real LEGO Master Builders to discover how to create better, stronger and cooler-looking models that you design all by yourself!
LEGO MBA will be a multi-level LEGO training experience. You know how in martial arts like karate, there are different colored belts that signify a level of achievement and rank? LEGO MBA will be like that too, with multiple levels of achievement. Each level has its own special color, but instead of a belt, you'll receive a new exclusive MBA Minifigure in the color of the latest building skill level that you've achieved!
The first year of the LEGO MBA program features two skill levels – green Level 1 and yellow Level 2 – with more to come later on. You'll master each level through exclusive LEGO MBA building kits and technique-filled Design Handbooks, three per level, each including pieces and instructions dedicated to a famous theme like space, robots, cars and more.
You'll be able to find additional challenges and building ideas on the LEGO MBA website, along with skill tests to level up your building even more. As you meet and beat each challenge, your friends and family will be amazed at how much your building skills and creativity have advanced!
So what do you say? Want to take your LEGO building to the next level? Get ready, because the all-new LEGO Master Builder Academy launches this June in the US with plans to expand to other markets next year!
Most kits in LEGO MBA are 3 in 1's, or kits that come with certain bricks which can assemble in 3 different ways. "Level 3" introduced 11 in 1 kits.
LEGO MBA replaces the old Brickmaster magazine.
Each Level comes with a new minifigure, similar to earning a new belt in Martial Arts.
Minifigures
[
edit
]
The Kits
[
edit
]
Kit 1: Space Designer
[
edit
]
Space Fighter
Rocket
Helicraft
Space Pod (Exclusive alternate model [1])
Kit 2: Microbuild Designer
[
edit
]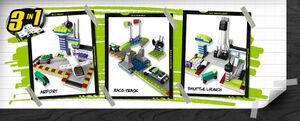 Airport
Race Track
Shuttle Launch
Kit 3: Robot Designer
[
edit
]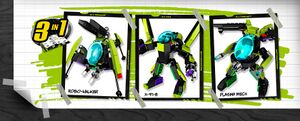 X-91-B
Robo-Walker
Plasma Mech
Kit 4: Flight Designer
[
edit
]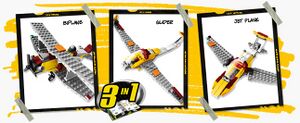 Biplane
Glider
Jet Plane
The Spark (Exclusive alternate model [2])
Kit 5: Creature Designer
[
edit
]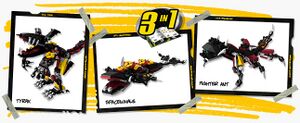 Tyrax
Spacewhale
Fighter Ant
Sticker (Exclusive alternate model [3])
Kit 6: Auto Designer
[
edit
]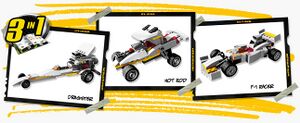 Hot Rod
F-1 Racer
Dragster
Tow Truck (Exclusive alternate model)
Kit 7: The Lost Village
[
edit
]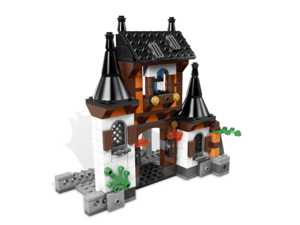 Kit 8: The Forbidden Bridge
[
edit
]
Kit 9: The Dark Lair
[
edit
]
Kit 10: Time Machine
[
edit
]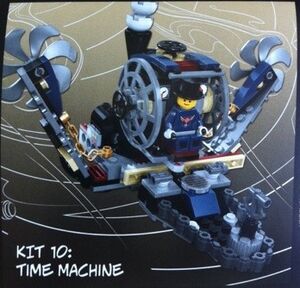 Kit 11: World Architecture
[
edit
]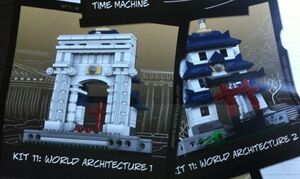 Kit 12: Inventor's Lab
[
edit
]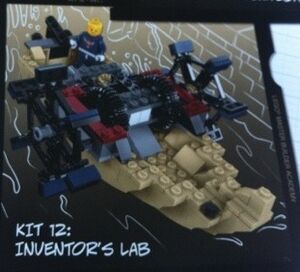 M.O.C.s
[
edit
]
On the MBA website, there are pictures of M.O.C.s (My Own Creation) made by original Master Builders or LEGO fans.
Gallery
[
edit
]
External links
[
edit
]