Review:Space Alien/Berrybrick
From Brickipedia, the LEGO Wiki

Berrybrick
Country: America the Beautiful     Gender: Male


Joined: February 2010  

№ of Reviews: 46  

№ of Featured reviews: 1


Building Experience: Enough is enough
---
How would you rate the Space Alien?
You are not entitled to vote.
You are not entitled to view results of this poll.
2 votes have been cast since the poll was created on 21:30, 10 January 2014.
poll-id 3F922E7275A2E34EF65FDDA84FA8E57D
---
Minifigures Series 3 is the only series I have ever really collected. I would call it one of the better ones, but not the best. I'm usually tight on funds, and other than the bank that came out around the same time, there was little at all that interested me. I ordered a handful or two of Series 3 minifigures with the bank and a small Atlantis set, and was mostly pleased with my turn-out, which also included three space aliens.
Box/Instructions
[
edit
]
The minifigure comes sealed in a small lime green bag, just like all of the other Series 3 minifigures.
The instuctions are a flyer with a checklist with all sixteen minifigures on one side, and a diagram showing how to put together a minifigure on the other side. Like the packaging, the flyer was identical what was included with all series 3 minifigures.
There are six parts included, if I remember correctly. The green alien head, his torso, the legs, the stand, the gun, and the beam.
I like the head. The colors look better than Squidman and Squidtron, but I would prefer the scale-y/barnacle-y design on the scalp to the thick black lines that are there.
I really like the torso, and like many (many) collectable minifigures, the only think I think could improve it is backprinting. I am not good at making this machinery look on figures (see my Gypsy Moth redesign as an example) so I really do like it. I would not have minded if they replaced the purple coloring with magenta, to match Alien Conquest, but since I did not collect that theme, it does not bother me.
The gun looks really good in gold, even though it isn't as useful in this color (in my opinion) and the purple beam is good, but a little more length would make it more useful (just because).
Minifigure
[
edit
]

See parts, I guess. Really a nice minifigure we probably won't see in any actual sets.
The Build
[
edit
]
All it is is a minifigure, I think we all know how to build one by heart and exactly what it's like, and if you don't, there's a diagram included.
The Completed Model
[
edit
]
Again, a nice minifigure, not much good on its own though. I'm glad I reaped three of them, they are an excellent army builder and Squidman finally has his squid people now. I enjoy having them displayed with my (weak) Space Police III collection.
Summary
[
edit
]
One of my favorite minifigures from the series, and good as an expansion to Space Police, Alien Conquest, or just on its own.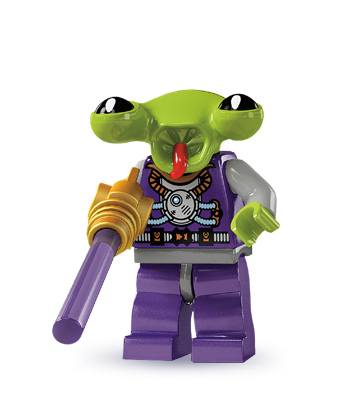 | Overall: | 4 / 5 | Building Experience: | 1 / 5 | Parts: | 4 / 5 | Playability: | 4 / 5 | Minifigures: | 5 / 5 | Value for Money: | 4 / 5 |
| --- | --- | --- | --- | --- | --- | --- | --- | --- | --- | --- | --- |