User:LegoFan4000/Monthly Message/2016/07
From Brickipedia, the LEGO Wiki
LegoFan4000's monthly message- July 2016!
Welcome to LegoFan4000's monthly message
In this message I will be posting every month with updates and whatevers going on.
Helpful stuff
[
edit
]
Featured article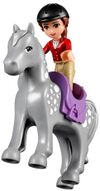 Olivia is a Friends mini-doll figure introduced in 2012. She is one of the five main characters of the theme and the protagonist of the television series LEGO Friends of Heartlake City, appearing in all seven episodes. She is the smart girl of the group of friends. She currently appears in twenty sets and she has seventeen variations between them. Olivia also appears in thirty-eight of the forty-eight Friends webisodes. Olivia has seventeen variants, all of which have the same hairpiece. The headpiece's eye colour was initially amber in 2012 but was later changed to a rust brown colour. Olivia has light nougat skin. Olivia's eyes are currently rust brown in colour. Above her eyes, she has curved black eyebrows. She has a smile, which is decorated with bright purple lipstick.
Read more... Featured story
Adventures in Heartlake:41114
Theme:
Friends
Author:
Soupperson1
Featured review This month's featured review is on 10696 LEGO Medium Creative Brick Box, written by Brikkyy13.

Hello! Today I'm reviewing one of the Classic sets that are new for 2015, 10696 LEGO Medium Creative Brick Box. This set was kindly donated to Brickipedia by our friends over at The LEGO Group. So, is this set worth picking up, or is it just another parts pack? As you can see, the packing is quite unconventional. Like most sets branded under the "LEGO" name alone (i.e. not any specific theme) the parts are packaged in large re-usable for containers.
Read more...
Featured art Estari
If you have any questions, or feedback about this, feel free to ask me at my talk page.
I hope you enjoy editing here and being a Brickipedian! Happy Editing! —LegoFan4000
You are free to remove this message after you have read it.