From Brickipedia, the LEGO Wiki
Mindstorms EV3

Item №:

31313

Pieces:

601

Price:
$349.99
€349.99
£299.99
$499.99

Additional prices:

$399.99

Ages:

10+

Released:
Theme:

31313 Mindstorms EV3 is a Mindstorms set released in September 2013.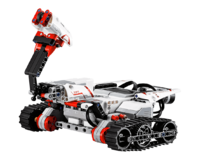 The TRACK3R (also known as Tracker) is a multi-terrain robot created to cross a variety of surfaces. It does this by having treaded wheels, and tools that can be customized by the builder. It has 4 motors and sensors:
1 programmable brick
2 large motors
1 medium motor
1 Infrared sensor

This is a description taken from LEGO.com. Please do not modify it. (see the source of this quote) If you have never build a LEGO MINDSTORMS robot before, we recommend you start by building this one! TRACK3R is a crawler-mounted, all-terrain robot with four interchangeable tools. Start by building the body of the robot, then discover the possibilities of the four different TRACK3R tools: the bi-blade blender, the blasting bazooka, the gripping claw, and the hammer.
The SPIK3R (or Spiker) model is made to imitate a real scorpion, which includes a tail, six movable legs, and a dual set of pincers. It also includes:
1 programmable brick
2 large motors
1 medium motor
1 Infrared sensor

This is a description taken from LEGO.com. Please do not modify it. (see the source of this quote) This six-legged creature doesn't just look like a scorpion, it also acts like one. It turns sharply, snaps with it's crushing claw, and it's lightning tail is ready to fire at anyone or anything that gets in its way.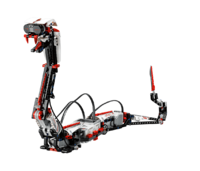 Similar to the SPIK3R, the R3PTAR (also known as Reptar) bases off its design of a real cobra. It uses some wheels on the sides to help it move smoothly. The sensors and motors are:
1 programmable brick
2 large motors
1 medium motor
1 infrared sensor

This is a description taken from LEGO.com. Please do not modify it. (see the source of this quote) One of the most loved robots, the standing 35 cm. / 13,8 inch tall R3PTAR robot slithers across the floor like a real cobra, and strikes at lightning speed with it's pointed red fangs.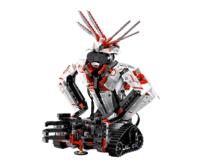 The GRIPP3R (and also, gripper) is a model used to retrieve objects. It's also capable of transporting the objects from one place to another. The motors include:
1 programmable brick
2 large motors
1 medium motor
1 infrared sensor

This is a description taken from LEGO.com. Please do not modify it. The GRIPP3R robot is constructed for some heavy-duty lifting. It's got the muscle to grab and drop a can of soda with its powerful grasping grippers.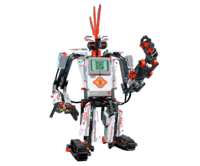 The EV3STORM is the most advanced out of all the starter kits. It has a ball shooter in its left hand and a claw in its right hand. It contains all the motors and sensors given in the set, which are:
1 programmable brick
2 large motors
1 medium motor
1 infrared sensor
1 colour sensor
1 touch sensor

This is a description taken from LEGO.com. Please do not modify it. EV3RSTORM is the most advanced of the LEGO® MINDSTORMS® Robots. Equipped with a blasting bazooka and a spinning tri-blade, EV3RSTORM is superior in both intelligence as well as in fighting power.

This is a description taken from LEGO.com. Please do not modify it.
Create and command robots that do what you want with LEGO® MINDSTORMS® EV3!
Combining the versatility of the LEGO building system with the most advanced technology we've ever developed, unleash the creative powers of the new LEGO MINDSTORMS EV3 set to create and command robots that walk, talk, think and do anything you can imagine. Follow the step-by-step 3D building instructions to create TRACK3R, R3PTAR, SPIK3R, EV3RSTORM and GRIPP3R and bring them to life with an easy, intuitive and icon-based programming interface. Grab the enclosed remote control and take on challenging ready-made missions or download the free app and command your robot using your smart device. Want to share your own creations and be inspired by others? Logon to LEGO.com/mindstorms to access loads of cool content and interact with a huge online community of other LEGO MINDSTORMS fans. The LEGO MINDSTORMS EV3 robot revolution has begun!
At the heart of the product is the Intelligent EV3 Brick with powerful ARM9 processor, USB port for WiFi and Internet connectivity, Micro SD card reader, back-lit buttons and 4 motor ports
Includes 3 interactive servo motors, remote control, improved and redesigned color sensor, redesigned touch sensor, infrared sensor and 550+ LEGO® Technic elements
Control your robot via the infrared sensor system
Intuitive software (PC and Mac) with icon-based drag-and-drop programming interface
Control and command your robot with the enclosed remote control or download the free app for your smart device
Includes 550+ LEGO® Technic elements – everything you need to create amazing robots!
Building instructions for 1 robot included. Download 4 more building instructions plus bonus building instructions developed by real fans and endorsed by LEGO at LEGO.com/mindstorms
Take on challenging ready-made missions
Share your creations with a huge online community at LEGO.com/mindstorms
Check out the cool black, red and white design
Batteries not included
This product requires an internet connection to download the programming and instructions software.
If you can think it, LEGO MINDSTORMS EV3 lets you create it
SPIK3R (incl. legs) measures over 16″ (41cm) high, 14″ (38cm) long and 15″ (40cm) wide
EV3RSTORM measures over 16″ (41cm) high, 7″ (19cm) long and 8″ (21cm) wide• R3PTAR measures over 13″ (35cm) high, 31″ (81cm) long and 3″ (8cm) wide
GRIPP3R measures over 11″ (30cm) high, 9″ (24cm) long and 7″ (18cm) wide
TRACK3R measures over 3″ (9cm) high, 10″ (27cm) long and 8″ (21cm) wide

This is a description taken from LEGO.com. Do not modify it. LEGO® ROBOTS BEGIN WORLDWIDE MARCH: NEW SMARTER, STRONGER LEGO MINDSTORMS EV3 UNVEILED AT CES
‐Robotics Pioneer Releases More Accessible yet More "Hackable" Platform in 15th Anniversary Year of the Original Smart Toy‐
‐Includes First‐Ever Native Language Editions for Russia, China and Korea‐
CONSUMER ELECTRONICS SHOW, LAS VEGAS (January 7, 2013) – Today The LEGO Group announced LEGO® MINDSTORMS EV3, a new platform for consumer robotics designed to introduce a younger generation to the excitement of building and programming robots while adding new flexibility for its devoted following of robotics enthusiasts. Unveiled for the first time at the Consumer Electronics Show in Las Vegas, Nevada, LEGO MINDSTORMS EV3 is the result of three years of product development by an international team of LEGO designers, MINDSTORMS user‐enthusiasts and leading technology experts. LEGO MINDSTORMS EV3, available in summer 2013, will be previewed to members of the global media at Digital Experience! on January 7 and will be demonstrated to CES attendees during the Kids@Play Summit, January 8‐11, 2013, in the Venetian Hotel.
When LEGO MINDSTORMS first launched in 1998 it was regarded as the first real "smart toy." Fifteen years later, The LEGO Group has redesigned MINDSTORMS to excite and challenge an audience of children who have grown up with technology, many of whom are more proficient in commanding and controlling mobile devices and other technology than their older siblings and parents. Furthermore, the audience for consumer robotics has grown considerably, leading the team to focus on simplifying the experience for a younger user while making it more flexible and powerful for hobbyists and other enthusiasts.
The entire MINDSTORMS system is powered by the new EV3 Intelligent Brick. Stronger and faster with more memory and a larger processor, the EV3 Intelligent Brick now un‐tethers robots from the computer by providing users expanded on‐brick programming and tighter integration with smart devices. A new infrared sensor will give builders more control over their robots than ever before, adding more personality to the robot as it follows the builder or other devices. New Linux‐based firmware, a USB port and SD expansion slot will offer nearly unlimited programming and expansion capabilities. Additionally, LEGO MINDSTORMS EV3 will also include full iOS and Android compatibility out of the box.
At launch, LEGO MINDSTORMS EV3 will include building instructions for 17 different robots such as "Everstorm" a Mohawk‐sporting humanoid that shoots mini‐spheres as it walks, "Spiker" a scorpion‐like robot that searches for an IR beacon "bug" or "Reptar", a robotic snake that slithers, shakes and strikes, all designed to excite and inspire children with the endless possibilities of consumer robotics. To jump‐start the fun, The LEGO Group has created a series of "modular builds" designed to help children begin programming and playing within minutes. Builders can then add LEGO Technic® pieces, additional motors or sensors to change the functionality of the robot. A "mission pad" included with the box adds a new element of game play and encourages children to compete against themselves in a series of obstacle courses for the robots they build and program. Marking another first in the company's history, MINDSTORMS EV3 is the first LEGO playset to incorporate 3D building instructions, made possible through collaboration with Autodesk. An innovative spin on The LEGO Group's hallmark nonverbal, step‐by‐step building instructions, the new 3D instructions app, powered by Autodesk Inventor Publisher, allows builders to zoom in and rotate each step in the building process, making it easier than ever to assemble even the most sophisticated robot.
"Fifteen years ago, we were among the first companies to help children use the power of technology to add life‐like behaviors to their LEGO creations with the MINDSTORMS platform," said Camilla Bottke, LEGO MINDSTORMS project lead at The LEGO Group. "Now, we are equipping today's tech‐literate generation of children with a more accessible, yet sophisticated robotics kit that meets their tech play expectations and abilities to truly unleash their potential so that they may surprise, impress and excite the world with their creativity."
LEGO MINDSTORMS EV3 is the most international robotics platform the company has ever developed. In response to a growing demand from emerging markets, for the first time MINDSTORMS will be released with native language editions for Russia, China, Korea, Japan, Spain and Denmark in addition to the English, French, German and Dutch language versions available today. The company assembled a multinational team of product designers and enthusiasts to create the new MINDSTORMS platform; product designers from across Europe and the U.S. worked together to develop the software and hardware for three years while a core team of 12 user‐enthusiasts from Greece to Canada have been testing the limits of the platform and working on apps, models, and hacking environments.
LEGO MINDSTORMS EV3 will be available at most toy and discount merchandise retailers and online stores in the second half of 2013 and will have a suggested retail price of $349.99(USD), €349.99(EUR) and $399.99(CAD).
For educators interested in bringing the engagement of robotics into STEM‐related curriculum in middle school and high school classrooms, a new version of the MINDSTORMS platform optimized for school and institutional use will also be released this year. The LEGO MINDSTORMS Education EV3 platform includes customizable curriculum; engaging, hands‐on models and an easy‐to‐use programming platform. More information on LEGO MINDSTORMS Education EV3 can be found at www.LEGOeducation.us/MINDSTORMS.