From Brickipedia, the LEGO Wiki
Featured set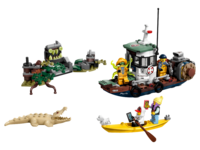 70419 Wrecked Shrimp Boat is a part of the first wave of Hidden Side sets, released on August 1, 2019. The set features heroes heroes Jack Davids, Parker L. Jackson and ghost dog Spencer on a kayak alongside Captain Jones and Jones Jr. on their shrimp boat. Also included is a small ghostly island and the legendary albino alligator. Like all Hidden Side sets, using the Hidden Side app on a tablet or mobile device with the set unlocks a hidden world with mysteries to solve and ghosts to defeat.
Monthly Deals for September
September's Brickipedian of the Month:




Fischkiste
Congratulations from all of us here at Brickipedia!