From Brickipedia, the LEGO Wiki
Paradisa

Years:
Subtheme of:
Related themes:
Paradisa was a subtheme of Town, that ran from 1992-1997. It included many pink-coloured bricks, along with other rare pieces, and was mainly marketed towards girls.
Paradisa sets were mainly focused on leisure and vacation, many sets consisting of scenes at the beach. Horseback riding and surfing were also a few other of the theme's main subjects.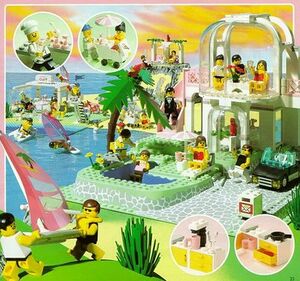 Unlike other themes of that era, Paradisa had an abundance of female minifigures, which were composed of several completely new parts that somewhat revolutionized the design of female minifigures. Parts like these included a new ponytail hair piece, three new faces, two with eyelashes and more delicate red lips than on the female head introduced with Pirates in 1989, as well as a face with freckles. There were also new torso pieces with strapped and strapless tops. The few male minifigures featured only two different types of heads, with either a moustache or dark sunglasses.
Paradisa sets were the first to feature the rare colours pink, dark pink, and lime green, and - except for white and old light gray - the sets were mainly composed of parts in these colours, and some of them were only available in Paradisa sets.
| | | | | | | |
| --- | --- | --- | --- | --- | --- | --- |
| Image | # | Set | Pieces | Figures | Price | Released |
| | 1761  | Paradisa Motorboat  | 23  | Paradisa Female Eleven   |   | 1995  |
| | 1815  | Paradisa Lifeguard  | 36  | Paradisa Female Twelve, Lifeguard (Paradisa)   |   | 1996  |
| | 22  | Divertimento al Cubo  |   | 4   |   | 1995  |
| | 2870  | Paradisa Barbeque  | 18  | Paradisa Female Seventeen   |   | 1997  |
| | 6401  | Seaside Cabana  | 45  | Paradisa Male One, Paradisa Female One   | $6.75 / DM 11.99 (= €6.13)  | 1992  |
| | 6402  | Sidewalk Café  | 43  | Paradisa Male Eight, Paradisa Female Nine   | $7.25  | 1994  |
| | 6403  | Paradise Playground  | 91  | Paradisa Female Eight, Paradisa Male Six, Paradisa Female Seven   | $13.25  | 1993  |
| | 6404  | Carriage Ride  | 60  | Paradisa Female Fourteen, Coachman (Paradisa)   | $8.75  | 1996  |
| | 6405  | Sunset Stables  | 133  | Paradisa Female Two, Paradisa Male Two   | $15.99  | 1992  |
| | 6409  | Island Arcade  | 145  | Paradisa Male Four, Paradisa Female One, Paradisa Male Seven, Paradisa Female Seven, Paradisa Female Eight   | $21.00  | 1993  |
| | 6410  | Cabana Beach  | 145  | Paradisa Male Nine, Paradisa Female Eleven, Paradisa Female Ten, Waiter (Paradisa)   | $25.50  | 1994  |
| | 6411  | Sand Dollar Cafe  | 163  | Chef (Paradisa), Paradisa Male Three, Paradisa Male Four, Paradisa Female Three, Paradisa Female One   | $29.75  | 1992  |
| | 6414  | Dolphin Point  | 198  | Paradisa Female Twelve, Paradisa Female Thirteen, Paradisa Male Ten, Paradisa Male Eleven   | $32.99  | 1995  |
| | 6416  | Poolside Paradise  | 219  | Waiter (Paradisa), Paradisa Female Four, Paradisa Female Five, Paradisa Male Four   | $38.50  | 1992  |
| | 6417  | Show Jumping Event  | 35  | Paradisa Female Eighteen   | $4.00  | 1997  |
| | 6418  | Country Club  | 280  | Paradisa Female Fourteen, Waiter (Paradisa), Paradisa Female Sixteen, Paradisa Female Fifteen, Paradisa Male Twelve   | $42.00  | 1996  |
| | 6419  | Rolling Acres Ranch  | 364  | Paradisa Female Six, Paradisa Male Five, Paradisa Female Two   | $46.00  | 1992  |
| | 6489  | Seaside Holiday Cottage  | 84  | Paradisa Female Nineteen, Paradisa Male Thirteen   |   | 1997  |
| | 6547  | Fun Fair  | 176  | Paradisa Female Twenty, Paradisa Female Twenty-One, Paradisa Female Twenty-Two, Waiter (Paradisa), Paradisa Male Twelve   | $27.50  | 1997  |