From Brickipedia, the LEGO Wiki
Scala

Years:
Related themes:
Scala is a theme that ran from 1979 through 1980, then again from 1997 until 2001. The theme was primarily targeted at younger girls.
The 1979-1980 theme was a series of jewelry and beauty accessories built out of LEGO bricks, especially plates. The 1997-2001 theme focused on doll-like Scala Figures, their homes and interests.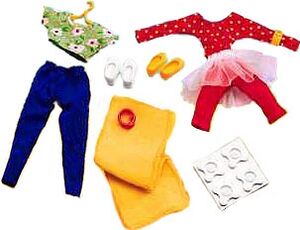 An unusual feature of Scala sets released in 1997 and 1998 was that many of the bricks didn't feature regular studs. Instead, sets of four studs were combined into an arrangement that resembled a flower. Only some regular bricks could be attached to these flower-studs. In 1999, Scala returned to ordinary studs.
| | | | | | | |
| --- | --- | --- | --- | --- | --- | --- |
| Image | # | Set | Pieces | Figures | Price | Released |
| | 308  | Bracelet  | 38  |    |   | 1979  |
| | 309  | Bracelet  | 38  |    |   | 1979  |
| | 310  | Necklace  |   |    |   | 1979  |
| | 3100  | Girl's Sportswear  |   |    |   | 1998  |
| | 3101  | Ladies' Cocktail Dress  | 5  |    |   | 1997  |
| | 3102  | Men's Sportwear  |   |    |   | 1998  |
| | 3103  | Christian In a Blue Blazer  | 9  | Christian (Scala)   |   | 1998  |
| | 3104  | Caroline In a Red Dress  | 7  | Caroline (Scala)   |   | 1998  |
| | 3105  | Emma In a Flower Dress  |   | Emma (Scala)   |   | 1998  |
| | 3106  | Marie In a Rainbow Skirt  |   | Marie   |   | 1998  |
| | 3107  | Andrea In a Sunny Dress  |   | Andrea (Scala)   |   | 1998  |
| | 3108  | Birthday Accessories  | 25  |    |   | 1998  |
| | 311  | Necklace  | 25  | 0   |   | 1979  |
| | 3110  | Four Animal Friends  | 16  |    | $6.99  | 1998  |
| | 3112  | Baby's Nursery  | 32  | Thomas (Scala)   |   | 1998  |
| | 3114  | My Place  | 49  |    |   | 1998  |
| | 3115  | Kitchen  | 41  |    |   | 1998  |
| | 3116  | Cool Ice Cream Café  | 65  | Andrea (Scala)   |   | 1998  |
| | 3117  | Flashy Pool  | 83  | Emma (Scala), Thomas (Scala)   |   | 1998  |
| | 3118  | Fun Fashion Boutique  | 116  | Marita (Scala)   | $54.00  | 1998  |
| | 3119  | Sunshine Home  | 179  | Olivia (Scala), Thomas (Scala), Christian (Scala)   | $96.00  | 1998  |
| | 312  | Bracelet and Pendant  | 46  |    |   | 1979  |
| | 3120  | Room  |   |    |   | 1998  |
| | 3121  | Summer Day Out  | 20  | Thomas (Scala)   |   | 1998  |
| | 3122  | 123 Marie  | 6  | Marie   |   | 2001  |
| | 3123  | Emma's Chill-Out Kitchen  | 58  | Emma (Scala)   | $19.99  | 2001  |
| | 3124  | Indie's Stable  | 95  |    |   | 2001  |
| | 313  | Bracelet and Pendant  | 59  |    |   | 1979  |
| | 3130  | Thomas in Stroller  | 14  | Thomas   |   | 1999  |
| | 3132  | Emma in Spring Dress  | 10  | Emma (Scala)   |   | 1999  |
| | 3133  | Andrea Doll  |   | Andrea (Scala)   |   | 1999  |
| | 3134  | Marie Doll  | 9  | Marie (Scala)   |   | 1999  |
| | 3135  | Olivia in Flower Pants  | 12  | Olivia (Scala)   |   | 1999  |
| | 3136  | Christian in Blue Jeans  | 10  | Christian (Scala)   |   | 1999  |
| | 3137  | Mens' Casual Wear  | 3  |    |   | 1999  |
| | 3138  | Ladies' Fashion Wear  | 3  |    |   | 1999  |
| | 3139  | Girls' Wild Windbreaker  | 3  |    |   | 1999  |
| | 3140  | Dancing Circle Dress  | 4  |    |   | 1999  |
| | 3141  | Baby Wear  | 4  |    |   | 1999  |
| | 3142  | Marie in her Studio  | 112  | Marie (Scala)   |   | 1999  |
| | 3143  | Camping Trip  | 61  | Emma   |   | 1999  |
| | 3144  | Horse Stable  | 35  |    |   | 1999  |
| | 3146  | Shopping Accessories  | 12  |    |   | 1999  |
| No image | 3148  | Carla's Winter Camp  |   |    |   |   |
| | 3149  | Happy Home  | 263  | Olivia (Scala), Thomas (Scala), Christian (Scala)   |   | 2000  |
| | 3150  | Puppy Playground  | 35  |    |   | 2000  |
| | 3151  | Emma on the Move  | 65  | Emma (Scala)   |   | 2000  |
| | 3152  | Playroom for the Baby Thomas  | 81  | Thomas (Scala)   |   | 2000  |
| | 3155  | Olivia in Smooth Dress  | 9  | Olivia (Scala)   |   | 2000  |
| | 3156  | Fun Clothes  |   | 1 Scala figure   |   | 2000  |
| | 3157  | Sweater and Skirt  | 3  |    |   | 2000  |
| | 3158  | Chris  | 7  | Christian (Scala)   |   | 2000  |
| | 3159  | Party Celebration  | 41  |    |   | 2000  |
| | 3200  | Beauty Studio  | 31  | Emma (Scala)   |   | 1997  |
| | 3201  | Living Room  | 37  | Mother (Scala)   |   | 1997  |
| | 3202  | Laundry Room  | 42  | Lotte (Scala)   |   | 1997  |
| | 3203  | Girl and Beauty Cabinet  |   | Andrea (Scala)   |   | 1997  |
| | 3204  | Auntie Jane and Cousin Sophie  |   | Auntie Jane, Cousin Sophie   |   | 1998  |
| | 3205  | Picnic  |   | Andrea (Scala)   |   | 1998  |
| | 3206  | Girl Making Lunch  |   | Emma (Scala)   |   | 1998  |
| | 3210  | Ladies' Dress and Accessories  | 22  |    |   | 1998  |
| | 3211  | Girl's Dress and Accessories  |   |    |   | 1998  |
| | 3220  | Father with Gifts  |   | Christian   |   | 1998  |
| | 3240  | Andrea's Miniature Garden  | 54  | Andrea (Scala)   |   | 1997  |
| | 3241  | Nursery  |   | Thomas (Scala), Kate (Scala)   |   | 1997  |
| | 3242  | Bathroom  | 76  | Andrea (Scala)   |   | 1997  |
| | 3243  | Kitchen  | 91  | Thomas (Scala), Marita (Scala)   | $26.50  | 1997  |
| | 3244  | Gift Shop  |   | 1   |   | 1998  |
| | 3270  | Dream Cottage  | 120  | Emma (Scala)   |   | 1997  |
| | 3290  | The Big Family House  | 265  | Thomas (Scala), Marita (Scala), Christian (Scala)   |   | 1997  |
| | 3900  | Bracelet  | 20  |    |   | 2001  |
| | 4306  | Rings  | 15  |    |   | 1980  |
| | 4307  | Rings  | 15  |    |   | 1980  |
| | 4336  | Mirror  | 46  |    |   | 1980  |
| | 5401  | Kitchen Accessories  | 17  |    |   | 1998  |
| | 5413  | Beauty Set  | 21  |    |   | 1999  |
| | 5414  | Kitchen Set  | 24  |    |   | 1999  |
| | 5415  | Garden Set  | 19  |    |   | 1999  |