From Brickipedia, the LEGO Wiki


Welcome to Brickipedia Reviews, a subset of the free online LEGO® encyclopedia known as Brickipedia. This reviews site is where anyone, including you, can write your own review on a LEGO® set and share your opinions with the world. This wiki is based on the MediaWiki software used to run Wikipedia, and with the help of editors like yourself, we strive to have the best LEGO® reviews out there.
Random previously featured review: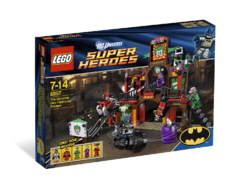 This month's featured review is on 6857 The Dynamic Duo Funhouse Escape, written by Berrybrick.
This set was unexpected and showed up surprisingly on LEGO.com months after the other DC sets were revealed. I think I'd call it the best in the line, and of course it's hard to find, so fittingly and unfortunately, I got it last.
Though it doesn't exactly have a counterpart in the Batman line, The Riddler did share a hideout with Bane in 7787 The Bat-Tank: The Riddler and Bane's Hideout. Just compare the two (and make sure to take your eyes off of the Bat-tank and look around it); Riddler is obviously getting a nicer hideout by teaming up with Joker than he did with Bane.
I really like the box art on the front; the bright and colorful funhouse against a yellow sky. Batman looks a little strange and The Joker is floating, but other than that it's fine.
I'm not so sure about the scene on it though; Riddler is running down the stairs wielding a crowbar to fight Batman, who is still on the Batcycle. I'm sorry, but Riddler is supposed to be smart, not muscular. It looks like that is mixed up here. If anyone was to fight Batman, it would be Harley Quinn, she's the only one with a chance at defeating him.
Also, though not as apparent as in 6860 The Batcave and 6862 Superman vs. Power Armor Lex once again, the muscular man (Superman, Bane, or in this case, Batman) is rescuing the captured damsel in distress (Wonder Woman, Poison Ivy, or in this case, Robin). ;)
The back of the box doesn't look as good. The blue and yellow just don't go well together; the red and light blue of the Marvel sets is nicer. But the yellow/blue will clash with anything on the back of the box.
Read more...
Nominate a review for next month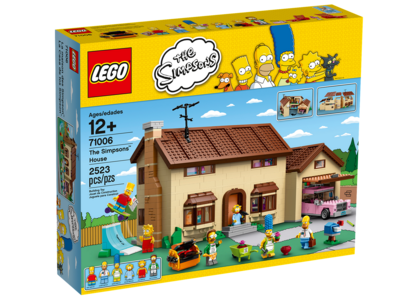 71006 The Simpson Family House
How do you rate 71006 The Simpson Family House?
You are not entitled to vote.
You are not entitled to view results of this poll.
48 votes have been cast since the poll was created on 07:17, 1 May 2014.
poll-id BA243D0F6D811B257063D06321E5B517
Past polls...