Review:Main Page
From Brickipedia, the LEGO Wiki


Welcome to Brickipedia Reviews, a subset of the free online LEGO® encyclopedia known as Brickipedia. This reviews site is where anyone, including you, can write your own review on a LEGO® set and share your opinions with the world. This wiki is based on the MediaWiki software used to run Wikipedia, and with the help of editors like yourself, we strive to have the best LEGO® reviews out there.
Random previously featured review: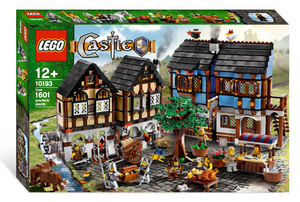 This month's featured review is on 10193 Medieval Market Village, written by Klagoer.
When this set came out in 2009 I knew it would be a set I would have to get. Now getting it I am happy with my purchase and am pleased to know that LEGO still has some good ideas left. This set brings back the medival feeling and adds a little European style and greatly adds to any Castle scene.
Containing 1,601 pieces this set is a beast but in the end it is well worth it. Read on to find out more:
The Price
I didn't get this set from LEGO.com but rather from EBAY for $95.99. But shipping was $20.00 so it averaged out in the end. But you get some really exclusive parts such as a set of coins, an awesome stair case, two new exclusive LEGO cows etc. You also get eight minifigures, a chicken, and even a horse. So in the end it was a fairly good buy for the price. Four stars. Instructions/Manual/Packaging
Instructions/Manuals
Like most LEGO instructions the colors are completely wonky. The grey bircks are made so they appear to be black and the black are made to look brown. The minifigures are made so they look all the same esspecially the legs (excluding the dresses). There were also a few errors with the actual instructions such as on one page it called for a 1x2 brick but on the next page it was a 1x3 brick. Overall, the instructions were quite awful and hard to read so I can't reccommend this set for the instructions.
Read more...
Nominate a review for next month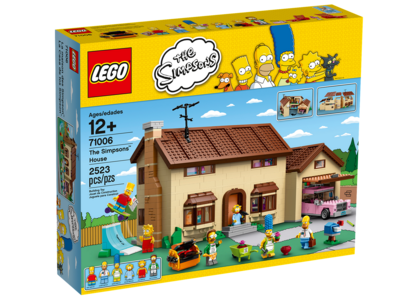 71006 The Simpson Family House
How do you rate 71006 The Simpson Family House?
You are not entitled to vote.
You are not entitled to view results of this poll.
47 votes have been cast since the poll was created on 07:17, 1 May 2014.
poll-id BA243D0F6D811B257063D06321E5B517
Past polls...