From Brickipedia, the LEGO Wiki


Welcome to Brickipedia Reviews, a subset of the free online LEGO® encyclopedia known as Brickipedia. This reviews site is where anyone, including you, can write your own review on a LEGO® set and share your opinions with the world. This wiki is based on the MediaWiki software used to run Wikipedia, and with the help of editors like yourself, we strive to have the best LEGO® reviews out there.
Random previously featured review:
This month's featured review is on LEGO Batman: The Videogame, written by Berrybrick.
I picked this up on my trip to LEGOLAND California back in May. So far, out of all of the games produced by Traveller's Tales, it is my second favorite LEGO videogame. It would be my favorite if it wasn't for a small amount of playable characters, and even a smaller amount of characters that I want to play as.
Value for Money
I bought this game for Wii at LEGOLAND's Big Shop. I bought it for $20 USD, which it still sells for. That is a great price, as most console games sell for at least $50 when they are first released
Instruction Manual/Packaging
I'm actually not usually fond of the packaging on LEGO games, and this one isn't an exception. First of all, Robin winking is a little strange, but I guess that it would make it look even kid friendlier. The choice of villains on the rooftops seems a little weird too. I do like the back of the case though, with a bat-symbol on the top and several screen shots of different characters. There is also a picture of Poison Ivy and The Riddler dark blue skyline of Gotham City The instruction manual is incomplete, and even has a mistake in it. It goes over the hero game play pretty well, except for Alfred (who narrates the manual) says to look out for blue sparks on magnetic walls. The problem with that? Almost all of the magnetic walls have blue sparks, and they don't harm Robin or Nightwing (the only two characters who can climb them) at all. It goes over the villain abilities horribly though. It only has two - mind control and super strength - which are used by The Riddler and Clayface on the first level. There are advertisements for Police, Mars Mission, Racers, and the 2008 Batman sets in the back of the manual. Despite this, the manual could of been a lot worse. The manual for LEGO Pirates of the Caribbean: The Video Game's manual only had one or two pages.

Read more...
Nominate a review for next month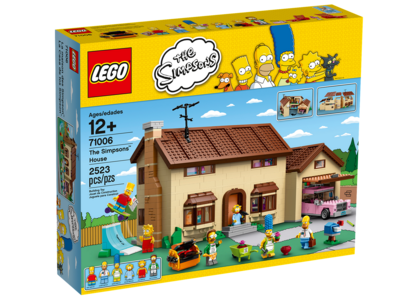 71006 The Simpson Family House
How do you rate 71006 The Simpson Family House?
You are not entitled to vote.
You are not entitled to view results of this poll.
48 votes have been cast since the poll was created on 07:17, 1 May 2014.
poll-id BA243D0F6D811B257063D06321E5B517
Past polls...