From Brickipedia, the LEGO Wiki
Time Cruisers

Years:
Subthemes:

Time Twisters
Time Cruisers is LEGO's one and only time travel theme. It has two factions: The Time Cruisers and the Time Twisters. The plot revolves around a professor named Dr. Cyber's travels through time.
Description
[
edit
]
The following is a description of Time Cruisers from a period LEGO catalog page:

This is a description taken from LEGO.com. Please do not modify it. Time Cruisers
"The LEGO Time Cruisers sets will give you the chance to travel through time...anytime! Imagine navigating your vehicle through the depths of time, visiting other places past and present to complete your top secret mission! Careful though, as you never know who or what you'll meet! Most importantly, remember to get back home, or you could be trapped in time forever!"

The Time Cruisers power their time machines with special hats. While the plot specified by LEGO involves activities taking place in the past, the set of hats offered in the Hypno Cruiser includes an alien helmet, indicating that travel to the future is possible. The Time Twisters use a clear cylinder filled with artifacts from the different eras power their time travel.
Factions
[
edit
]
Time Cruisers has two different factions. The Time Cruisers and the Time Twisters.
Time Cruisers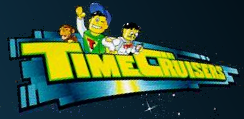 The Time Cruisers are the protagonists of the theme and were introduced with its' initial release in 1996. Dr. Cyber and his assistant Tim are the main characters in this faction, and they visit other ages to gather knowledge and the repair damage wrought by the Time Twisters (which appeared the following year). They also have two other members, a robot named Wacco, and a monkey named Ingo. Their primary objective is to remain undercover and meddle as little as possible with history.
Time Twisters
The antagonists of this theme are called the Time Twisters. The Time Twisters are the twins Tony Twister, and Professor Millennium, who are accompanied by a mysterious Ghost, and a Skeleton. Their vehicles are powered by cylinders filled with valuable articles from the past. They travel through time to steal objects of value to add to their cylinders, and interfere with the past.
Sixteen Time Cruisers sets were released over the course of two years.
Minifigures
[
edit
]
Characters
[
edit
]
Other minifigures
[
edit
]
Gallery
[
edit
]
Sources
[
edit
]
| | |
| --- | --- |
| | This page uses content from Wikipedia. The original article was at Time Cruisers. The list of authors can be seen in the page history. As with Brickipedia, the text of Wikipedia is available under the Creative Commons Attribution-ShareAlike 3.0 license, however please help to make this a unique article to Brickipedia in any way you can. |