From Brickipedia, the LEGO Wiki
Mindstorms NXT

Years:
Subtheme of: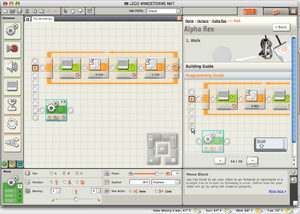 Mindstorms NXT, a version of the Mindstorms theme, was first released in 2006 and it is out of production since 2013. They are LEGO Technic robots, making them more expensive then most Mindstorms sets. In 2009, a second version with new parts was released named Mindstorms NXT 2.0.
The Mindstorms NXT comes with the Intelligent Brick, a Sound Sensor, a Light Sensor, 3 Motors, a Touch Sensor, and an Ultrasonic Sensor. The Mindstorms NXT 2.0 comes with the Intelligent Brick, a triple function Light Sensor/Colour Sensor/Lamp, two Touch Sensors and an Ultrasonic Sensor. You can also buy an Accelerometer Sensor, a Colour Sensor, a Compass Sensor, a Light Sensor, a Sound Sensor, a Touch Sensor and an Ultrasonic Sensor as extra products on the LEGO Shop website. (Please note that the information on this list was found on LEGO Mindstorms website. It is possible that the information is incorrect. It should also be noted that LEGO Shop is selling Gyroscopic Sensors and Infrared Link Sensors. However, these sensors are not listed on the LEGO Mindstorm's website.)
Besides the LEGO-supplied NXT-G, there are a number of other programming languages and environments that support the NXT, including Bricxcc, RobotC, leJOS, etc...
The name "NXT" is a pun on the word "Next", as in the "next" line of robotics.