From Brickipedia, the LEGO Wiki
QUATRO

Years:
Related themes:
LEGO QUATRO was a theme in preschool series introduced in 2004 and discontinued after 2006. It was designed for children age 1 to 3.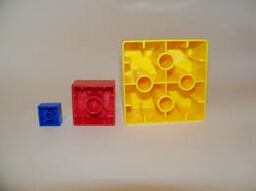 QUATRO bricks, hence the name, are designed to be twice the dimensions of LEGO DUPLO bricks. The name "QUATRO" also signifies that the blocks are quadruple the dimensions of the traditional LEGO System blocks. QUATRO bricks are compatible with DUPLO and System bricks. These pieces were baby-friendly, and were specially designed to endure teething. In addition, they are the largest-scale elements ever created.
The logo of QUATRO is an elephant which is the same as the old logo of Primo, but in different colour. It was first released under LEGO Explore package, and then in LEGO QUATRO packaging.
2004 was the first year for QUATRO starting off with 4 sets (5355-5358), all which include a plastic bucket to contain, store, and build from and had a lid that was a building plate to start creations on.
Sets
During 2005 QUATRO packaging was changed to boxes instead of buckets, an option that would later be carried on to 2006. The first QUATRO vehicle was released in 5363.
Sets
In the last year QUATRO brought out 3 sets, and the only QUATRO Figure included in 5470.
Sets