Acrylonitrile Butadiene Styrene
From Brickipedia, the LEGO Wiki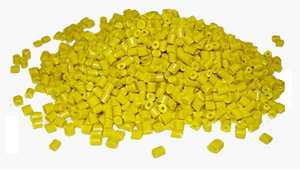 Acrylonitrile Butadiene Styrene, often abbreviated ABS, is the plastic used in most modern LEGO elements. Its chemical formula is (C8H8)x·(C4H6)y·(C3H3N)z, and it has melting point at about 105 °C.
ABS is a thermoplastic consisting of a styrene monomer with the addition of an acrylonitrile momomer and a butadiene monomer. It is the butadiene component (a derivative of natural rubber) that is largely responsible for the strength and impact resistance of the plastic. The final form of the plastic was developed as part of the war effort in the mid 1940s.
As part of The LEGO Group's R&D expansion in the late 1950s to early 1960s, a process development lab was started in Billund under the Swiss engineer Hans Schiess. The first major contribution of the newly developed lab was the switch from cellulose acetate (CA) to ABS. For LEGO, the new material provided a plastic that was more stable, more impact-resistant and more colorfast than CA. Additionally it could be easily injection molded to more exacting tolerances than CA.
LEGO introduced ABS in 1963 and slowly dropped CA over the next several years. Many sets from the 1960s contain both CA and ABS elements. By 1966 in Europe or 1970 in North America all CA stockpiles had been depleted and all sets since have been exclusively ABS.
The German chemical company Bayer AG has long been the exclusive supplier of ABS to the LEGO Group. In 2004 Bayer spun off most of its plastics business as the company Lanxess AG. Today, virtually all plastic used by LEGO is a proprietary version of Lanxess' Novodur ABS, Makrolon polycarbonate (for transparent elements) and Macrolex dyes for coloring.
Exceptions include clear or translucent parts (which are often made from polycarbonate) and parts that need to be more flexible than ABS allows, such as rods, the clips that connect to them, flags, etc. Cloth and string elements are often made from Delrin, or another nylon variant.