From Brickipedia, the LEGO Wiki
Basketball

Years:
Subtheme of:
Related themes:
LEGO Basketball was a subtheme of Sports that ran from 2003 to 2004 with sets and to 2005 with accessories.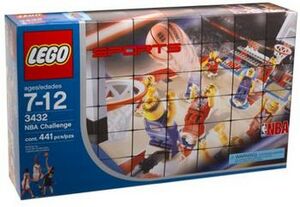 The Basketball subtheme was originally licensed by the NBA in 2003, ending the next year. These sets were based on real games, court games, and simple street games.
The minifigures in this theme were known for their special design. They have spring loaded legs and specially designed hands so players can shoot, pass and even reverse slam dunk. It took a team of four LEGO designers and six engineers a full year just to develop the arms and hands so that the minifigures could properly hold, and throw a small basketball piece.
These minifigures also featured more realistic skin tones, being based on real-life NBA players from real teams.
| | | | | | | |
| --- | --- | --- | --- | --- | --- | --- |
| Image | # | Set | Pieces | Figures | Price | Released |
| | 10121  | NBA Basketball Teams  | 16  | 5   |   | 2003  |
| | 3390  | Streetball Player  | 5  | 1   |   | 2003  |
| | 3427  | NBA Slam Dunk  | 54  | 1   | $6.00  | 2003  |
| | 3428  | One vs One Action  | 37  | 2   | $10.00  | 2003  |
| | 3429  | Ultimate Defense  | 80  | 2   | $15.00  | 2003  |
| | 3430  | NBA Spin and Shoot  | 71  | 2   | $9.99  | 2003  |
| | 3431  | Street Ball 2 vs 2  | 182  | 4   | $20.00  | 2003  |
| | 3432  | NBA Challenge  | 441  | 10 NBA Players   | $49.99  | 2003  |
| | 3433  | Ultimate NBA Arena  | 481  | 10   | $80.00  | 2003  |
| | 3440  | NBA Jam Session  | 68  | 2   | $20.00  | 2003  |
| | 3440  | NBA Jam Session Co-Pack  | 68  | 2   |   | 2003  |
| | 3500  | Kobe Bryant  | 4  | Kobe Bryant   |   | 2003  |
| | 3529  | Pau Gasol  | 3  | Pau Gasol   |   | 2003  |
| | 3530  | Tony Parker  |   | 1   |   | 2003  |
| | 3548  | Slam Dunk Trainer  | 16  | 1   | $4.00  | 2003  |
| | 3549  | Practise Shooting  | 18  | 1   | $4.00  | 2003  |
| | 3550  | Jump and Shoot  | 17  | 1   |   | 2003  |
| | 3560  | NBA Collectors  | 10  | Ray Allen, Tim Duncan, Pau Gasol   | $8.00  | 2003  |
| | 3561  | NBA Collectors  | 10  | Shaquille O'Neal, Antoine Walker, Tony Parker   | $8.00  | 2003  |
| | 3562  | NBA Collectors  | 11  | Gary Payton, Dirk Nowitzki, Vince Carter   | $8.00  | 2003  |
| | 3563  | NBA Collectors  | 10  | Jason Kidd, Kobe Bryant, Toni Kukoc   | $8.00  | 2003  |
| | 3564  | NBA Collectors  | 10  | Karl Malone, Allen Iverson, Steve Francis   | $10.00  | 2003  |
| | 3565  | NBA Collectors  | 12  | Paul Pierce,  Steve Nash   |   | 2003  |
| | 3566  | NBA Collectors  | 10  | Jalen Rose, Pedrag Stojakovic, Kevin Garnett   | $9.99  | 2003  |
| | 3567  | NBA Collectors  | 10  | Tracy McGrady, Chris Webber, Allan Houston   | $9.99  | 2003  |
| | 3584  | Rapid Return  | 46  | 1   | $8.00  | 2003  |
| | 5013  | Free Throw  | 25  | 1   |   | 2003  |
| | 5016  | Player and Backboard  | 17  | Basketball Player   |   | 2003  |
| | 7917  | Blue Basketball Player  | 5  |    |   | 2004  |
| | 7918  | Green Basketball Player  | 5  |    |   | 2004  |
Various minifigures from this theme appear in The LEGO Movie as Master Builders,