From Brickipedia, the LEGO Wiki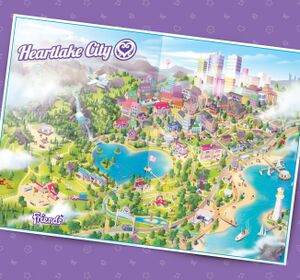 Heartlake City is the setting of the Friends theme and the home of Andrea, Emma, Mia, Stephanie, and Olivia and her parents. The city is located around a heart-shaped lake (hence the name) and between a beach and a mountain range. It features a café, a bakery, a vet, a pet salon, the Butterfly Beauty Shop, and the City Swimming Pool. In the city and nearby there are facilities suitable for people interested in aviation, horse riding, observing dolphins, karate and many other activities. International sporting events and talent contests are held here.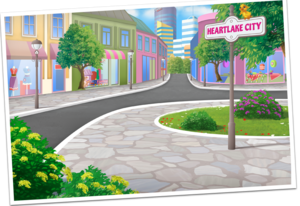 In 2015, themed areas based on Heartlake City were opened at multiple LEGOLAND parks.
Locations in and around Heartlake City
[
edit
|
edit source
]
Lake Heart - A heart-shaped lake in the center of the city where people go to swim, fish, and ice-skate.
Main Street - A place to shop.
Heartlake High – The local school attended by main characters.
Clover Meadows - A place where people go for picnics.
Whispering Woods - A small forest in Heartlake City.
The Beach - The coast line of Heartlake City. Emma and Olivia's houses are located near here.
The Park - The Heartlake Dog Show is held here.
Heartlake Heights
Heartlake Stables - The horse stables that make up the Summer Riding Camp.
Clearspring Mountains - A mountain range with a spring close to Heartlake City.
Lighthouse Island - An island off the coast of Heartlake City.