LEGO Club Collectable Minifigures Mini Mag
From Brickipedia, the LEGO Wiki
The Collectable Minifigures Mini Mag was released with the third LEGO Club Magazine of 2010. [1]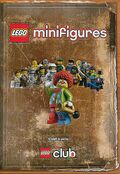 In the LEGO Club Magazine that came with it there was a puzzle of the Minifigures on the 10211 Grand Emporium, with one of them missing.
Minifigure Photo Competition
Profiles of the Minifigures
LEGO Minifigures Poster
The Further Adventures of the Minifigures! (Minifigure building ideas)
Take Your Mini-Adventure Online! (LEGO Minifigures website)
The Minifigure Mayhem Mystery! Comic
8684 Minifigures Series 2 Sneek Peak
While it says on the website the Cowboy (Collectable Minifigure) is always looking for his lost horse, on his profile it says he hates when his horse wanders off.
It says that the Tribal Hunter dislikes the cities and their noise, being the opposite of the Cowboy.
At the end of the comic the Super Wrestler admits that wrestling can't help the minifigures with their problem.
In the poster the Ninja (Collectable Minifigure) is seen tripping, the Demolition Dummy is seen disasembling himself and the Zombie is seen following his chicken leg.