From Brickipedia, the LEGO Wiki
A LEGO Store is a store dedicated to selling LEGO products. There are stores located throughout North America and Europe.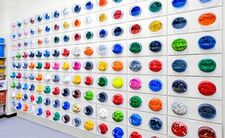 LEGO stores sell LEGO sets and minifigures alike. There is sometimes a "Pick-a-Brick" wall where the buyer can choose which individual bricks he/she wants to buy.
LEGO Retail Stores usually have events going on, and the most recent is the LEGO Store Monthly Mini-Model Build where one day (the first Tuesday each month) you learn how to build a new mini LEGO set. There are also LEGO Club meetings several Saturdays each month. The meetings occur one hour prior to store opening and require advance reservation. For approximately $25 attendees receive a "grab bag" of LEGO bricks, a themed t-shirt and an hour of fun, theme-based building with fellow LEGO fans.
LEGO stores have special displays called "picture frames" in which sets in cases are shown off (usually there is also one or two at a time at all Target, Wal-Mart, and similar stores). These retail displays are then sold in employee auctions once they are taken down. There are known as Display Models sometimes have lights and sounds, and one or two functions on the bottom by pressing buttons or moving a lever.
There are also giant display models, not of sets. These are usually unique to a store, and are only found at LEGO Retail Stores. They are always glued, and are often giant versions of sets or minifigures from themes, although they also have many unthemed giant display models at stores.
LEGO Brand Retail "Grand Opening Exclusive Commemorative Sets"
[
edit
|
edit source
]
During the three day long grand opening celebration of a new LEGO Brand Retail Store location, an exclusive commemorative LEGO set is given out to the first 300 customers who spend US $35.00 or more in the store, usually on the second day of the event. This small model somehow represents the city in which the new location has opened, and the LEGO model shop in Enfield, CT; USA is usually responsible for the design. However, local AFOLs (Adult Fans of LEGO) have been known to be contacted by the company when in design of a new location's commemorative set.
This article or section is incomplete.
Please improve the article, or discuss the issue on the talk page.
1992
2006
2008
2009
2010
2011
Alberta
British Columbia
Manitoba
Ontario
Quebec
Alabama
Arizona
California
Colorado
Connecticut
Delaware
Florida
Georgia
Hawaii
Illinois
Indiana
Kansas
Maryland
Massachusetts
Michigan
Minnesota
Missouri
North Carolina
New Jersey
Nevada
New York
Ohio
Oklahoma
Oregon
Pennsylvania
Rhode Island
Tennessee
Texas
Utah
Virginia
Washington
Wisconsin
To find a store near your city, visit the LEGO Stores Search.