From Brickipedia, the LEGO Wiki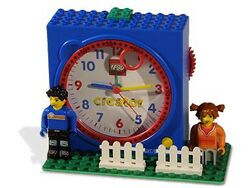 LEGO Time is a LEGO product line that was first introduced in 1960, and comprises a large number of watches and clocks. Since 2000 a far greater number of these sets have been released.
The armwrists of the watches usually consist of separable and recombinable segments and are sometimes bundled with System minifigures. The clocks are brick-compatible at their top and bottom sides, and are usually bundled with an assortment of regular LEGO elements.
Alpha Team
[
edit
]
Belville
[
edit
]
BIONICLE
[
edit
]
Creator
[
edit
]
Dino 2010
[
edit
]
Exo-Force
[
edit
]
Jack Stone
[
edit
]
Knights' Kingdom II
[
edit
]
Life on Mars
[
edit
]
Ninjago
[
edit
]
Power Miners
[
edit
]
Space Police III
[
edit
]
Spybotics
[
edit
]
Star Wars
[
edit
]
Time Cruisers
[
edit
]
Toy Story
[
edit
]
See also
[
edit
]