From Brickipedia, the LEGO Wiki
Deep Sea Raider

Item №:

7984

Pieces:

265

Minifigures:
Price:

$29.99
£24.99

Ages:

7 - 14

Released:
Theme:
7984 Deep Sea Raider is an Atlantis set released in January of 2011. The set includes 265 pieces. It is recommended for children ages 7–14.
Description
[
edit
]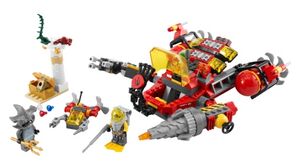 Deep Sea Raider: A large ocean speeder is included and is titled Deep Sea Raider. The cockpit features a glass which can be easily removed.[1] The glass is laid upon slanted bricks leading their way to border around universal turning system located at both the right and left side, which are forming an arm and a drill. The drill is easily posable and can also easily pose the drill.[2] The arm is also easily posable and features a hand at the front.[3] The back features jets built from domes and other cylindrical pieces as well, and have a window bordering them with a flick-fire missile attached on top.[4] The rear hatch opens to release a mini Deep Sea Raider submarine.
Props: The set includes small props built on top of a tile. Their is a golden treasure chest laid at the front that can be opened and closed to fit inside some armour. A column is laid upon the near back of the tile and has seaweed and a crab at the top.[5]
In the British Summer 2011 LEGO Catalogue it states that this set costs £25.99.
LEGO.com Description
[
edit
]

This is a description taken from LEGO.com. Please do not modify it. (visit this item's product page) Drill a path to the riches!
Recruited to dig and drill through the dangerous ruins, excavation expert Dr. Brains from the LEGO® Power Miners is trying to get to the treasure! Open the back compartment and release the mini sub for tight squeezes! Can he outwit the angry hammerhead guardian to retrieve the treasure and legendary body armor? Set includes 2 minifigures and mini sub.
Includes 2 minifigures: diver and hammerhead guardian
Deep Sea Raider features opening cockpit, grabber and functioning drill
Open the back compartment to reveal the mini sub!
Features flexible falling pillar, lobster, treasure chest with jewels and body armor
Deep Sea Raider measures 6" wide (15cm) and 8" long (20cm)
Mini sub measures over 2" wide (5cm) and 2" long (5cm)
Minifigures Included
[
edit
]
Gallery
[
edit
]
References
[
edit
]
External links
[
edit
]