From Brickipedia, the LEGO Wiki
DJ Plastik

Theme:
Released:
Playable Minifigures:
Play the game:

DJ Plastik is an online game for the Minifigures theme. In the game, players must press the arrow keys in the correct order and before the time passes out in order to progress to the next level.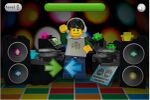 At the main menu, the player clicks the "Play" button to begin the game. Once the game begins, images of the up, down, left, or right arrow keys flash across the screen in a random order. In the first level, three different terms make up the pattern. After these images are shown, the player, who controls the DJ, must press the corresponding arrow keys in the same order, with a short pause after pressing each key. They must also do so before their time runs out, and the percentage of their time that has passed is indicated by a green bar at the top of the screen. If the player's time runs out or they press the wrong arrow key, the player must restart the level. If they insert the correct pattern within the time limit, they advance to the next level. Each time the player progresses to the next level, another term is added to the pattern that flashes across the screen. The first level's pattern has three terms, the second's pattern has level has four terms, and so on until the fifth level, where the pattern has seven terms. If the player passes level five, they are congratulated and asked to press the "Menu" button so they can play again.
While the images in the game's "Help" feature correspond to the game, the written instructions correspond incorrectly to Fairy in the Sky, saying, "Arrows to move. Collect the Stars. Dodge Bats and Manbat."