From Brickipedia, the LEGO Wiki
The Friends horse is a horse animal released in early 2012. This mould is used in Friends and Disney Princess themes, as mini-dolls require special steeds' and saddles' design to fit their rounded feet during horse ridding. The Friends horse has similar proportions as standard LEGO System variations (both old and new) but it has more subtle curvy shape - especially rounded back line - while standard horse figure's back is flat. It has also very detailed printing but its legs and neck are non-posable.
This figure represents an adult horse. In 2013 a foal (baby/child horse) figure was introduced in set Olivia's Newborn Foal.
The horse is in marching position with all four legs standing on the ground. A 2x2 plate and 2x2 segment with two studs on rounded top can be removed from its back and replaced by a saddle or hitching. To attach hitching, a 2x2 plate on horse's back has to be replaced by a 1x2 one.
Creature's neck is elevated and bent, so is its head with closed mouth, small triangular ears and concave nostrils. The horse has printed eyes which show black brows, lashes and pupils on white background. Their irises are either blue or brown.
The tail is long and wavy, elaborately sculptured in plastic as well as mane, which is short and swept to the right side of the neck apart from a small forelock.
Contrary to LEGO System horses, this figure has no printing resembling the bridle, as Friends horses use special moulded ones with reins, which are put on their head. The saddle design also differs from standard mould.
Friends horse can be decorated with a bow or awarded with a prize ribbon, due to the three little holes: one on a creature's forehead, one on the right side of its neck and the last on the base of a tail.
So far Friends horses are available in four colours:
These resemble popular horses' coat colours (grey, chestnut, bay and dun).
Friends horses come with various accessories – some newly-designed, some reused from earlier LEGO themes (like hitching and pitch fork). Most of the new ones are available in a few colours.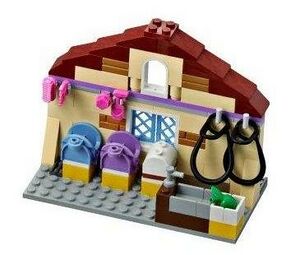 grooming set (including 2 brushes, 4 bows, comb, soap, hairspray)
bridle
saddle
bow
prize ribbon
hitching
pitch fork
whip
The new 2x2 saddle has a nice curvy line, moulded stirrups and a single-pin appendix placed flat on horse's back behind the rider's seat but no studs on its bottom to attach figure's legs. However it is divided into two rectangular sections matching mini-doll's feet in standing position which doesn't look as realistic as minifigure riders in standard saddles.
The rubber bridle fits well standard horse's head but two types of saddles can't be interchanged.
Other useful elements connected with equestrianism are new headpieces of riding helmets combined with ponytails in three hair colours (blond, black and dark red).
Friends sets include also some horse themed stickers.
The citizens of Heartlake City are very fond of horses and show jumping competitions. Katharina keeps two mares Bella and Niki in Heartlake Stables. Theresa teaches Emma, Stephanie and Ella horse riding in 3185 Summer Riding Camp, where three horses (Champion, Foxy and Sunshine) can be found. Two other horses (Mocca and Blaize) as well as a foal called Fame are kept in the Sunshine Ranch attended by Mia and Liza.
Mia also helps in the stables and veterinary clinic where injured and ill creatures are treated. Emma rides Robin and Olivia looks after a vulnerable newborn foal. Stephanie and Robert take part in Heartlake Horse Show, where Major and Ruby participate in show jumping competition.
The main characters enjoy grooming and training their steeds.