From Brickipedia, the LEGO Wiki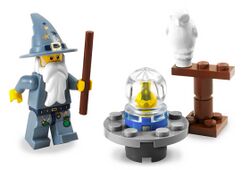 Impulse sets are small sets that contain only 10 to 30 pieces and one or two minifigures, priced well below four or five US dollars. They are often available before the release of the major sets of their respective themes or subthemes in order to promote their market introduction. Their name may be derived from the fact that they are intended to be bought "on an impulse", since their pricing makes them excellent toys for kids who don't have a lot of money, or for the casual shopper wanting to see what the theme has to offer, without committing a large sum of money.
Impulse sets often contain rare parts and/or minifigures that are otherwise hard to come by and are especially popular among army builders and builders of MOCs because they provide a source for specific parts without the need of buying a bigger, more expensive set. Generally, an impulse set will contain one minifigure from the theme, usually a generic or less important character, and a small setting from said theme to go with the character.
This article or section is incomplete.
Please improve the article, or discuss the issue on the talk page.