From Brickipedia, the LEGO Wiki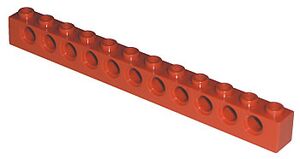 TECHNIC bricks are bricks with holes in the sides.
Part 3709b was a precursor to the TECHNIC brick. It was introduced in 1970 and had holes on all sides which fitted axles. However, it is incompatible with the TECHNIC peg.
The first brick 1 stud wide with holes was 3700, introduced in 1976, a year before the TECHNIC theme. Similarly, it was only suitable for axles. In 1977 it was redesigned, and bricks 4, 8 and 16 studs long were introduced as part of TECHNIC.