From Brickipedia, the LEGO Wiki
The cross axle is a TECHNIC component. Its primary use is to transfer movement. Gears can be connected, which control the spinning of axles. It was introduced in lengths 4, 6, 8 and 12 in 1970 when LEGO released the first European gears.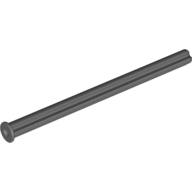 These parts have a stopper at the end. While their function can be mimicked with a standard axle with a bush at the end, these are a stronger and more compact solution.