From Brickipedia, the LEGO Wiki
Penguin Key Chain

Item №:

852987

Pieces:

1

Price:
$4.99
€3.99
£2.99
$6.99

Additional prices:

$5.49

$7.99

Ages:

6+

Released:
Theme:
852987 Penguin Key Chain is a Creator Key Chain set released in 2010. It features a brick-built model of a penguin, which is glued together and attached to a keychain. It is a part of the "Classic" line of merchandise, which also includes other similar key chains, such as 852985 Duck Key Chain.
The model is mostly made of white and black bricks, put together to resemble a penguin. It is unsure what species of penguin the model is meant to replicate. The penguin is built on a black 2X3 plate, presumably made to replicate its feet. Built atop the plate is an inverted white slope brick at the front, and a shorter black slope brick at the back. On top of the black slope are two smaller slopes, one of which sticks out to the left, and one to the right, replicating wings. Atop the inverted white slope is a normal white slope, the two bricks together creating the bulge of the penguin's belly. Set on top of the black one and the white slope bricks, connecting them at the top, is a 2X4 black plate, with a yellow 2X4 and a black 1X2 set upon it in turn.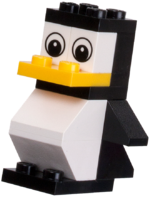 The yellow 2X4 projects out of the rest of the model by one stud, creating the penguin's beak. On top of the black 1X2 plate is a black 1X2 brick, these two together creating the back of the penguin's head. In front of the bricks, set atop the beak, are two 1X1 white bricks with eyes printed on them, situated right next to each other. On top of the now-complete head is a black 2X4 plate, which complete the model.
The keychain attaches into the side of the top brick, and consists of one small loop, six chain-links, and one very large loop.
It should be noted that the penguin is technically one piece, as it is glued together.
This is the second key chain to feature a penguin, the first being 4519072 Penguin Key Chain, which was released three years earlier.

This is a description taken from LEGO.com. Please do not modify it. (visit this item's product page) Get the penguin that's cooler than the arctic!
Whether you're headed to the North or South Pole, never forget to pack some LEGO® bricks with the LEGO penguin Key Chain! A cute microbuild charm for keys or backpacks!
Includes authentic prebuilt LEGO® Penguin
Makes a great gift for any LEGO fan!
Measures more than 1.5" (3.8cm) wide and 1" (2.5cm) tall