From Brickipedia, the LEGO Wiki
This disambiguation page lists articles associated with the same title.
If an internal link led you here, you may wish to change the link to point directly to the intended article.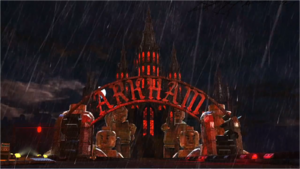 Arkham Asylum is an asylum in Gotham City where many DC Comics Super Heroes villains are imprisoned. It has been depicted as a LEGO set three times:
Arkham Asylum has also appeared in four LEGO video games:
Arkham Asylum has also appeared in three LEGO films:
Background
[
edit
]
The Elizabeth Arkham Asylum for the Criminally Insane, better known as Arkham Asylum, was an asylum in Gotham City where supervillains who were considered insane by a court of law were sent. This included most of Batman's enemies (plus a few from other heroes' rogues galleries, including Cheetah, Wonder Woman's nemesis, and Black Manta as a child), though in some depictions villains such as The Penguin, Catwoman, and Bane are not deemed insane and are sent to Blackgate Penitentiary instead. Though LEGO Batman: The Videogame mentioned Blackgate, the villains listed above are only known to be sent to Arkham in LEGO sets and related media. Mr. Freeze was not generally considered insane, but was sent to Arkham because they could provide the conditions he needed to survive.
The asylum has not had a good reputation as much of its staff has gone insane, including Dr. Harleen Quinzel, Dr. Jeremiah Arkham, and some versions of Professor Jonathan Crane and Dr. Hugo Strange.
The set depicted a prison break with The Joker, Poison Ivy, The Penguin, and The Scarecrow, with the help of Harleen Quinzel while Batman, Robin, and the security guard tried to stop it.
In the three-part LEGO Magazine story, "Batcave Break-In," The Joker, Catwoman, and Two-Face are broken out of the Asylum by Lex Luthor and Bane after they are defeated by Batman and/or Robin.
The asylum also appears in LEGO Batman: The Videogame. In the game, The Joker, The Penguin, and The Riddler orchestrate a prison break with twelve other villains and divide into three teams. After each team is defeated by Batman and Robin, they are seen returned to the asylum, generally content, except for Joker, Penguin, and Riddler.
In LEGO Batman 2: DC Super Heroes and LEGO Batman: The Movie - DC Super Heroes Unite, The Joker and Lex Luthor used the Deconstructor to free Catwoman, Penguin, Poison Ivy, Harley Quinn, Riddler, Two-Face, and Bane who attempted a prison break but were foiled by Batman and Robin before they could leave. Shortly later, Scarecrow attempted to escape on his own, but was also stopped. While Batman and Robin were speaking to Commissioner Gordon, the villains hijacked the police vans and escaped with even more inmates, such as Killer Moth and Clayface. When returning to the area later, Captain Boomerang and Two-Face's henchmen could be found in the Asylum courtyard.
In LEGO Batman 3: Beyond Gotham, The Joker and Lex Luthor were returned to their shared cell in Arkham Asylum after they aided in defeating Brainiac, who was also sent to Joker and Luthor's cell.