From Brickipedia, the LEGO Wiki
This article or section contains information regarding scheduled, forthcoming or expected future variant(s).
While this minifigure has been released in some form in the past, a new variant is expected for release soon. The content about any future variants may change as the release approaches and more information becomes available.
Bane

Theme:

Variations:

Batman
Super Heores
The Dark Knight Rises
Mighty Micros
The LEGO Batman Movie

Accessories:

Dynamite
Venom backpack

Years:
[List of appearances]
---
"Whatever you build, I will break."
―Bane's soundbite in LEGO Batman 2
Bane is an enemy of Batman's. He appeared in the Batman theme in 2007 and made a return appearance in the 2012 theme, Super Heroes. 2013 featured Bane in a costume based on his appearance in the film The Dark Knight Rises. Bane is voiced by Doug Benson in The LEGO Batman Movie.
2007 Bane is made out of three LEGO pieces, a head, a torso, and legs. Bane's head is a Black with Silver printing and large Red eyes to represent his luchador mask. Bane also has printing on the back of his head, there are Green tubes which lead down his back and into his head, there is more Silver printing to represent a zipper and an object which the tubes come out of. Bane's torso is also double sided. It is Light Nougat, but, with Black hands. The front side depicts most of Bane's torso as unexposed, but with Dark Blue suspenders coming up from the sides and silver belt goes round the bottom. The back side of the torso is mostly covered up by the backside of Bane's suspenders, but there is also a continuation of his belt and a silver backpack which emits the green tubes up onto his head. Bane's legs are Dark Blue and left unprinted.
In 2012, he has a new redesigned mask, and new, more muscular torso printing which includes, like his earlier design, suspenders. His legs are black and unprinted. However, he does not have black gloves, for he uses his bare hands. He has back printing on both his head and back depicting his Venom tank, suspenders, and a single green tube running from his tank to the top of his head.
This design was later reused for Bane's appearance in LEGO Dimensions. He is updated with a brickbuilt venom backpack, but the base minifigure remains the same.
Bane's 2013 appearance is based on how he looks in The Dark Knight Rises film. He has a shaved, flesh head, part of which is covered by a silver apparatus and olive green fabric holding it in place on each side, there is back printing depicting the back of the mask, however it doesn't connect to the front. His torso is also olive green and is mostly covered by his silver bullet-proof vest. Tan straps over it, and a tan belt above his waist. There is back printing depicting the armour, the back of the straps and the belt. His arms and left hand are left exposed. His right hand is black and his legs are grey.
Bane is among several characters to receive a cartoony redesign under the Mighty Micros banner. He wears his usual black luchador costume but with bolder, less-detailed geometries. His face is more expressive, with a scrunched eye, his costume is marked with a red "B" logo, and the figure has short legs.
The LEGO Batman Movie depicts Bane as a Big Fig for the first time in a physical set. Bane features a fur collar and metallic breather resembling his costume from The Dark Knight trilogy. His coat is otherwise sleeveless, leaving his arms bare, and he continues to wear his luchador mask with red eyes and a venom backpack, recalling more traditional versions of the character. This mix of influence is keeping with the style of other villains in the movie who draw from a variety of sources in their characters' designs.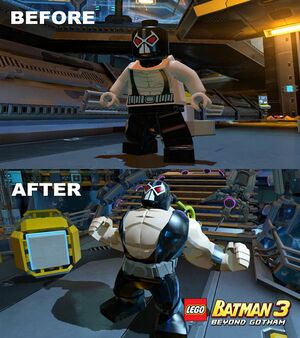 In LEGO Batman: The Videogame, Bane is identical to his appearance in 7787 The Bat-Tank: The Riddler and Bane's Hideout. Bane is able to use super strength and has an immunity to toxins. Bane retains these abilities for LEGO Batman 2: DC Super Heroes, while being updated to match his updated appearance in 6860 The Batcave. Bane again features in LEGO Batman 3: Beyond Gotham and LEGO Dimensions where he is able to transform into a big fig. LEGO Batman 3 DLC based on The Dark Knight trilogy will also unlock a version of Bane based on his depiction in The Dark Knight Rises. This skin is similar to the official figure from 76001 The Bat vs. Bane: Tumbler Chase, but has sleeves rather than bare arms.
In the original LEGO Batman, Bane's signature move is to crack the enemy's back over his knee, a nod to the manner in which he defeated Batman.
Born and raised in a brutal prison environment, Bane's already-impressive physical condition was enhanced by the experimental Venom drug; however, it was also extremely addictive, and he must have a constant supply or risk serious side effects. The Venom, particularly in overdose, granted him incredible strength, healing and resistance to damage, to the point of rendering him bulletproof. Targeting the pipes he wore to administer the drug was therefore the surest way to defeat him.
When he arrived in Gotham City, Bane discovered Batman's identity as Bruce Wayne and broke his back. However, Bruce survived and returned to the mantle of the Batman and has since defeated Bane several times over.
Bane is a mercenary escaped from the Pit who has come to Gotham City to finish the work of Ra's Al Ghul, prompting Batman to come out of retirement for one final mission.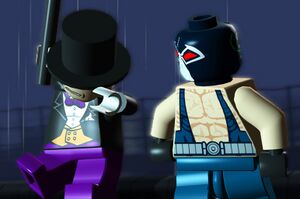 Following an escape from Arkham Asylum, Bane is a part of The Penguin's team. Penguin abandons Bane early on during a confrontation with Commissioner Gordon and the police force.
Sometime later, Lex Luthor frees Bane (among other villains) from Arkham by using Deconstructor. Bane attempts to escape on his Mole machine with Penguin and Poison Ivy. They face, and are initially defeated by, Batman and Robin, but escape soon thereafter.
Bane is among the DC Universe villains recruited by Vorton. When Batman, Wyldstyle, and Gandalf attack Vorton in the Rift between Dimensions, Bane is summoned to attack them, but he is defeated.

This is a description taken from LEGO.com. Please do not modify it. (visit this item's product page) Bane
First Bio
With world-class fighting skills and powerful-minifigure strength, LEGO Bane is one of the baddest villains ever built! He's often by the side of LEGO Poison Ivy, using his massive muscles for battling LEGO Batman and creating crime-filled chaos all over Gotham City. His powerful secret weapon, Venom, makes him an extra tough enemy of the LEGO Super Heroes!
Updated Bio
Although he appears to be a hulking brute, Bane's massive muscles mask a mind with a tactical intelligence that rivals even Batman's. He has dedicated himself to tearing down everything that the Dark Knights holds dear, and at last breaking his heroic rival.