From Brickipedia, the LEGO Wiki
Starfire (also referred to as Koriand'r and Princess Koriand'r) is a member of the Teen Titans who appears in the set, 76035 Jokerland. She is a playable character in LEGO Batman 3: Beyond Gotham with the "Heroines & Villainesses" DLC pack installed. She was also included in 71287 Teen Titans Go! Fun Pack, as part of the Dimensions line of sets.
Hailing from the alien world of Tamaran, Princess Koriand'r (which translates to "Starfire") is next in line for the planet's throne despite having an older sister, Komand'r (translation: Blackfire), because Komand'r is seen as an embarrassment for her inability to fly. After failing to kill Kory herself, Komand'r betrays her planet to a race of alien conquerors. Sold into slavery, Starfire became rebellious, leading to Blackfire ordering her execution. Before this can transpire, both sisters are attacked and captured by the Psions, whom experiment on them, giving Starfire the ability to fire solar energy in "starbolts" which allow her to escape and rescue Blackfire. Ungrateful, Blackfire attacks her sister. Kory escapes in a spaceship and lands on Earth, destroying the apartment of Grant Wilson, Deathstroke's son, when she crashes into his apartment. Soon meeting the Teen Titans, Starfire joins them and becomes romantically involved with Robin, nearly marrying him before the wedding is ruined by a demonic Raven.
Many years later, Starfire joins Donna Troy's investigation of a hole which has formed in the universe and helps to prevent Alexander Luthor, Jr., from recreating the multiverse in his image. Following the battle, Starfire is stranded on a deserted planet with Animal Man and Adam Strange. After an attack by the bounty hunter Lobo, the trio is separated, but Starfire is later discovered and rescued by the Green Lantern Corps. Starfire continues her partnership with Animal Man and Adam, spending much of her time with the Baker family.
After Starfire and Animal Man's son are attacked by a water demon in their swimming pool, Starfire reunites with former Titans Nightwing, Raven, Donna Troy, Kid Flash, Cyborg, Beast Boy, and Red Arrow to fend off Raven's father Trigon. Discovering that Trigon and his sons are using the seven deadly sins to weaken the Titans, Starfire notices that she and Nightwing are being influenced by lust when they show interest in renewing their relationship. Fearing that his affection is not real, she asks Nightwing if he still loves her, but realizes that he does not, and admits that he does not.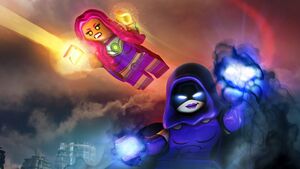 During the Blackest Night, Starfire is attacked by the Black Lantern controlled corpse of Lilith Clay, which traps Kory in a vision of her greatest desire, marrying Nightwing, before she is rescued by Beast Boy. Following this event, Starfire is invited by Donna to join the new Justice League, but she does not stay long. Deciding to return to Tamaran, Starfire finds that it is missing and teams up with LEGION, beginning a relationship with Captain Comet in the process, to find what has become of her home world.
Following the timeline reset, it is established that Starfire was once a member of a team alongside Dick Grayson and Roy Harper, and in a relationship with the former. After the team dissolved, Starfire suppressed her memories of Dick and feigned amnesia when Red Hood comes into her life, bringing Roy with him. They form a team together, and Kory enters into a relationship with Roy until he discovers that she has yet to move on past her breakup with Nightwing. She eventually exits her partnership with Jason and Roy, striking out on her own as a solo hero.