From Brickipedia, the LEGO Wiki
Blue Beetle is a DC Comics Super Heroes minifigure released in 2016. He is a playable character in LEGO Batman 3: Beyond Gotham.
Blue Beetle wears a compact suit of black and bright blue insectoid armour. It fits over his face so that his mouth can still open and show his teeth. The scarab which grants his powers is depicted through a combination of transparent fluorescent blue bug wings introduced with the Alien Mosquitoid, an exclusive collar piece which fits over the wings that depicts the scarab's pincers and front legs, and printing on the torso where the other four legs wrap around the sides and onto the front. Otherwise, the torso is also printed with a blue-armoured chest and a segmented abdomen. For his legs, Beetle has a dual-mould depicting black legs and blue boots.
This design and the version which appears in LEGO Batman 3 resemble the costume which Jaime Reyes wore for the first part of his existence in the comic books, only changing in 2016, the same year that the minifigure was released.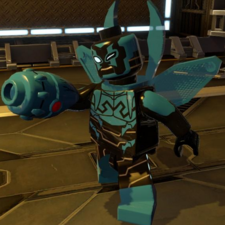 Blue Beetle is a playable character in LEGO Batman 3: Beyond Gotham. His character token can be found in free play for the level "A Blue Hope" by finding a piece of memorabilia for Bat-Mite. In-game, Beetle has the following abilities:
Flight
Fire energy blasts
Laser beam - melt ice and gold LEGO objects
Shield - become immune to flames and gunfire, deflect beams
Interact with technology
Playing as Blue Beetle and Booster Gold on screen together will unlock the Super Buddies achievement on Xbox. This is a reference to Booster Gold's friendship with Ted Kord, Jaime's predecessor as Blue Beetle.
Jaime Reyes is a Latino teenager who has a blue scarab mysterious fuse to his spine. After going missing in the desert for a year with no memory of what happened, Jaime returns to his family and discovers that the scarab, a relic created by The Reach, grants him a compact super-suit and automates creation of wings, shields, and dangerous weapons. The scarab intends to turn its host into a living weapon, but since it is partially defective, Jaime is able to retain control of himself, resist the bug's violent impulses, and build a relationship with it. As Blue Beetle, Jaime partakes in superheroics in his hometown of El Paso and as a member of the Teen Titans.

This is a description taken from LEGO.com. Please do not modify it. (visit this item's product page) After bonding with an alien scarab, teenager Jaime Reyes was transformed into Blue Beetle, a rookie super hero with lots to learn about battling super villains and saving the day. His indestructible armor gives him the ability to fly and generate an array of high-powered weapons and defenses.