From Brickipedia, the LEGO Wiki
This article is in need of an update. Once the required information has been added (listed below), this template may be removed.
Content that needs to be updated:


Batman v Superman variants
This article is about the minifigure. For other uses of the word "Superman", see Superman (disamiguation).
---
"Remember, I can do anything!"
―Superman to Batman in LEGO Batman 2: DC Super Heroes
Superman, also known as Clark Kent, is a minifigure from the DC Comics Super Heroes theme. He is a main character in LEGO Batman 2: DC Superheroes and LEGO Batman 3: Beyond Gotham, as well as a Master Builder in The LEGO Movie.
Superman's minifigure comes in different variations to reflect his appearances in different continuities, the comics and the modern live action film series. His first outfit was based of his appearance from the Golden Age of comics, and his other outfits are based of his appearance from the DC extended universe.
Superman's first version was based off his classic version from the comic. The figure has a black hairpiece which has his signature curl on it. He has a double sided head. His face is very serious on one side on the other it is grinning. His cheeks are sunken. He has a red cape and a blue torso which has muscular printing, along with his signature red S logo against yellow, and a belt. He has back printing depicting the back of the belt and the suit's cut on his back. His legs are blue with red hips. In 2015, Superman's cape was updated to a thicker, more flexible material, a trait used on all characters with cape released alongside him. Also in 2015, his classic version was updated to depict him using his heat vision. It also utilises a new cloth material for the cape. For LEGO Dimensions, Superman's classic version was given a new face depicting a wide grin. This variant was later reused in the Juniors line.
This variant has the same hair as the comics version. He has a double sided face with cheek bones, one with an angry expression and red eyes (replacing the black) to represent shooting lasers out of his eyes and the other with normal eyes and a serious expression. He has a red cape. His torso, arms, hips, and legs are earth blue while his hands are flesh. His torso is printed with his neckline, the start of his cape, his logo which is a large dark red Kryptonian "S" and some yellow and a different design, the suit's cut on his body, a gold oval and silver embroidery which continues onto the legs. He has back printing depicting the back of the suit, featuring the silver and gold embroidery and the muscles cut on his back.
This version has the same hair, face and printing as the Man of Steel variant but in black and silver.
Superman's DUPLO Figure variation is very similar to his original. Superman's black hairpiece is swept to the side and is missing his signature curl on it. His face now has ears and a button nose. He has thick black eyebrows. Superman's eyes are blue. His mouth has a open smiling, showing his white teeth. He wears a red cape around his neck. His blue torso is now missing his physical achievements. The torso simply presents his signature red S logo against yellow, and a belt. His arms are blue, and his hands bare.He has blue legs with the top printed with red shorts.

Superman received multiple changes for his appearance based off Batman v Superman.
Superman appears as his classic variant in LEGO Batman 2: DC Super Heroes. The only difference his yellow S which appears on the back of his cape.
Superman is capable of using many of his super powers in-game, such as flight and super-strength. He can also use his super-breath to blow enemies away, freeze-breath to freeze enemies and water, his heat vision to defeat enemies and heat golden objects, and X-ray vision to find hidden objects behind special walls.
He is also available as Clark Kent who has all the same powers except flight.
In LEGO Batman 3: Beyond Gotham he is updated to his appearance in The New 52. He now has fully blue legs, a red belt on the his torso, a larger "S" logo, and seams for his armour. He retains his power set from the previous game, and also gains the ability to transform to and from Clark Kent.
Born on the planet Krypton to scientist Jor-El and his wife Lara-El, Kal-El was sent to the planet Earth, Jor-El's only attempt to save his son during Krypton's destruction. Adopted by Jonathan Kent and Martha Kent, and renamed Clark Kent, he grew up in the town of Smallville, and would later learn of his Kryptonian powers and ancestry and became Superman, the Man of Steel. Superman's archenemy is Lex Luthor, who is jealous of Superman and wants to destroy him and look like a hero for doing it. Other enemies of Superman are Bizarro, Brainiac, and General Zod. The Man of Steel also partners with Supergirl, his cousin; Superboy, his clone; and Lois Lane, a reporter Superman is romantically interested with. Superman also works with Batman and Wonder Woman occasionally. He and Batman mistrust each other and don't always get along very well, but Superman has shown attraction to Wonder Woman.
He is a member of the Justice League, which also consists of Batman, The Flash, Green Lantern, Wonder Woman, Cyborg, Aquaman, Martian Manhunter, and sometimes Nightwing, Batgirl, Huntress, Hawkman, and Shazam.
After Jor-El fails to convince the Kryptonian ruling council to use the planet's genetic codex to colonize other worlds before their race goes extinct with the destruction of their planet, he and his wife Lara resolve to send their infant son Kal-El, the only naturally born Kryptonian in centuries, to Earth with the stolen genetic codex so that he can ensure the survival of their race. On Earth, Kal is adopted by Jonathan and Martha Kent who rename him Clark and raise him as their son. They help him to cope when his superpowers begin to develop. Jonathan eventually reveals to Clark that he is from outer space and insists that he hides his abilities out of fear that people will take his son away from him if they realize that he is different. After Jonathan gets caught in a car during a windstorm, he disallows Clark to rescue him because he knows that he is not ready to receive the attention that would come with his powers.
Clark sets out on a journey to discover where he came from, eventually discovering a downed Kryptonian ship in the arctic where he activates a hologram of Jor-El, who explains his past, the source of his powers, and his purpose to prevent Earth from failing like Krypton. Jor-El creates a costume for Clark, and informs him of his power to fly. A reporter named Lois Lane catches sight of Clark and follows him onto the ship, accidentally triggering the security system. He rescues her, and she launches an investigation into discovering who he is. Though she publishes the story of a man with superhuman powers, she keeps his identity a secret out of respect of Clark and the late Jonathan's wishes.
When the Kryptonian ship was reactivated, a beacon was sent out which attracted a group of Kryptonian refugees led by General Zod to Earth. Zod imposes that Kal-El and Lois be handed over to him, and they willingly comply, but escape when they realize that Zod wishes to collect the genetic codex from Kal, replace humankind with new Kryptonians, and terraform the Earth into a new version of Krypton. Zod and his underlings pester Martha for the codex, but Clark comes to her defence.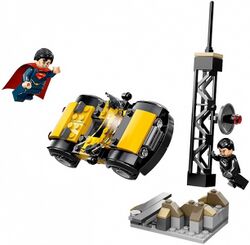 After the Kryptonians retreat from Smallville, Zod launches the world engine to begin the terraformation. However, using a plan passed on to Lois by Jor-El's hologram before it was destroyed by Zod, she and Clark are able to disable the world engines with help from the United States military. All of Zod's allies are absorbed back into the Phantom Zone, an extra dimensional Kryptonian prison. Enraged that Kal has prevented him from carrying out his duty as ensuring the survival of his race, Zod vows to destroy humanity singlehandedly and launches into a destructive rage. Clark attempts to stop him, but finds that Zod will not relent. While the general attempts to use his heat vision to kill a family, Clark grabs his head and snaps his neck. Clark cries out in anguish, and Lois comforts him.
Sometime after the battle with Zod, Clark finds a military drone tracking him and disables it. He agrees to work with the military, but not for them. Meanwhile, Clark Kent joins Lois as a reporter at The Daily Planet.
Superman is a member of the Justice League. At some point, he entrusted Batman with a Kryptonite ring which could be used to stop the Man of Steel if necessary. He is also aware of Batman's secret identity.
After Batman and Robin defeat The Joker outside of the Gotham Funland, Superman apologizes to Batman for missing Bruce Wayne's Man of the Year award ceremony, and criticizes him for making a mess at the theatre. Though Batman clearly does not like Superman, Robin does.
Superman later rescues Batman and Robin from Ace Chemicals then in escaping from the Batcave after it is destroyed by Lex Luthor and Joker. He is disappointed that Batman neglected to tell him Luthor was involved and the two of them proceed to infiltrate a LexCorp aircraft to confront the villains while Robin stays behind to repair Batman's vehicles. The two manage to reach the control deck, but Batman is dropped through a trapdoor, allowing Lex and Joker to continue. Superman rescues him, and carries Batman to LexCorp in Metropolis where they request a meeting with Luthor, but are instead attacked by his LexBots. When they reach Luthor and Joker, they reveal a large Joker-esque robot. They believe that they have killed Superman and Batman (who are disguised as each other) and follow the robot back to Gotham. They manage to disable its jets, but Lex emerges with Kryptonite and poisons Superman. He falls over in his weakened state. This time Batman rescues him and they glide down into the city. The robot hits at them and they fall through the ground into the metro. With some of his powers returning, Superman uses his heat vision to completely destroy its left hand.
At the City Hall, Lex begins to give a speech and infects the crowd with a mind-altering gas so that they will vote for him. Superman destroys the gas emitting flower from the robot, but is still too weak to stop it. He launches himself into its power source, hoarded Kryptonite, so that Batman can have a chance of stopping it. Batman alerts the Justice League, but before it arrives, the robot begins its attack of Wayne Tower. Still weak, Superman quickly lunges under it to keep it from falling, and is helped by Wonder Woman to keep it up. They hold it until Green Lantern and The Flash repair the base. When he is relieved, Superman faints until after Joker and Luthor are defeated.
Superman and Wonder Woman's date is interrupted when they received a distress call from Martian Manhunter, informing them that the Watchtower is under attack from the Legion of Doom. Superman, Wonder Woman, and Robin fend off the Legion's forces outside of the Watchtower while Batman, The Flash, and Cyborg infiltrate the Watchtower and reopen it. The Legion attacks, and the League splits up to defeat it. Superman and Batman face Lex and Joker, and defeat them.
Following the Legion's defeat, Brainiac reveals himself, gloating that he has one Lantern from each Corps under his control as part of his intentions to shrink whole worlds for his collection. He proceeds to do so with the Earth. Superman rushes to try and stop the shrink ray while the rest of the League teams up with the Legion of Doom to infiltrate Brainiac's mothership and stop him. After withholding it long enough for the Lanterns to be freed, Superman falls unconsciously towards Earth. Batman and Wonder Woman leap to save him and they land in a shrunken Paris. Brainiac lands near them, hoping to shrink the city further. The Trinity chase him through Europe, losing Paris, London, and Pisa to the hoarder before he retreats to Gotham to try and regain his downed mothership.
After subduing Brainiac in Gotham and reuniting with the rest of the League, Robin shows the others a fragment of the crystal which Brainiac directed the Lanterns' energies through to shrink the Earth. Superman volunteers to take it back to the Fortress of Solitude to synthesize a larger crystal while the others collect the various Lanterns. After this is complete, the League, Legion, and friendly Lanterns are attacked by Sinestro, Atrocitus, and Larfleeze, whose lanterns were stolen. A fight ensures, and the Lanterns' lights are redirected into the crystal, regrowing the Earth and returning them to their home planets, and sends the others scattered into the snow around the Fortress. The Legion takes the chance to flee. Brainiac returns in his mothership, using his shrink ray and mind control to grow Superman into a giant and then take control over him. Batman, Wonder Woman, Flash, and Robin collect themselves and attempt to stop Superman by taking advantage of his heightened senses and weakness to electricity, but Brainiac crushes their resistances until Robin pressures Batman to break Superman out of his trance by appealing to his emotions as a friend. Back in control of himself, Superman easily incarcerates Brainiac and is returned to normal size.
Superman is first seen as one of the Master Builders who assemble at Cloud Cuckoo Land to hear Emmet's speech. At the attack of Cloud Cuckoo Land he fights bravely until he gets stuck in some chewing gum. Much to his dismay Green Lantern (who he dislikes) tried to get him out but in doing so got stuck too. Superman is taken to the Octan Tower and is put in the Think Tank, and he is horrified when he's put beside Green Lantern. After being freed he part takes in the fight against Lord Business and his Micro Managers. When the fight is finished is seen socializing with the Justice League.
| | | | | | | | |
| --- | --- | --- | --- | --- | --- | --- | --- |
| | | | | | | | |
| Classic (Original) | Man of Steel | Black Suit | DUPLO figure | Classic (Grin) | Classic (Grin, new hair) | Batman v Superman, blue boots | Batman v Superman, red boots |
Classic
DUPLO
Man of Steel
These variants consistently use the neutral/heat vision head.
Batman v Superman
These variants consistently use the grin/heat vision head.

This is a description taken from LEGO.com. Please do not modify it. The powerful protector of Metropolis, LEGO Superman flies through the city, patrolling for crime with super vision! This mysterious minifigure lives a double life as Clark Kent, reporter for the Daily Planet when he's not battling the baddest minifigures Metropolis has ever known. Few know his secret identity and even fewer know his only weakness, Kryptonite, the only thing capable of zapping his super powers. Stop his foes from getting their claws on some Kryptonite and keep the city safe!