From Brickipedia, the LEGO Wiki
"You can't lay a hand on me! I'm faster than fast! Swifter than swift!"
―Griffin Turner
Griffin Turner is a Ninjago minifigure released in 2015. He appears in the fourth season of Ninjago: Masters of Spinjitzu. He is also the Elemental Master Wizard Sorcerer Mage and Magician of Speed.
Description
[
edit
]
Griffin Turner wears a white kimono. His legs and arms are plain white while his torso has prints showing his neck, red lines and a red belt. The torso print also shows a symbol representing an hourglass and a shuriken under his belt. He has Count Dooku's second variant hairpiece in brown. His face is two-sided, one side depicts a happy face with red-tinted glasses and the second side depicts an angry face without glasses.
Background
[
edit
]
Griffin Turner is the great-grandson of the first Elemental Master of Speed and descendant and grandson of the original Elemental Master of Speed, and his grandfather served as the previous Master of Speed. He was one of the elemental masters that accepted Master Chen's invitation to participate in the tournament of elements. On the voyage to Chen's island, Turner raced around the boat showing off his speed. ("The Invitation")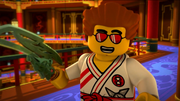 When the boat arrived at Chen's island, Turner was lead with the other elemental masters into Chen's palace where they were greeted by Chen, then shown to their rooms. During the first tournament, where the Elemental Masters had to acquire a Jade Blade to reach the next round, Turner fought with Gravis and Invizable to gain a blade until he noticed Cole moving towards one hidden in a flower pot. Using his speed, Turner raced down the stairs and retrieved that Jade Blade, thus advancing him to the next round. ("Only One Can Remain")
Turner is currently one of the souls entrapped in Nadakhan's father's Sword of Souls. While it is unknown how he ended up in there, Turner was presumably freed along with his friends the sword was destroyed when the realm of Djinjago Kingdom was destroyed.
LEGO.com Descriptions
[
edit
]

This is a description taken from LEGO.com. Please do not modify it. As a fast-talking, fun-loving master of speed, Griffin Turner doesn't always slow down long enough to think his actions all the way through. He's the first to dash into danger, not because he's reckless, but because he wants to solve every challenge as quickly as possible.
Appearances
[
edit
]
TV Appearances
[
edit
]
Video Game Appearances
[
edit
]
Gallery of TV Series Variants
[
edit
]
Gallery
[
edit
]