From Brickipedia, the LEGO Wiki
This minifigure has only appeared in a non-physical form
Although this article is about an official minifigure, it never existed in physical form, or appeared in any official LEGO sets.
Chamille Bellamy (also referred to as Camille Bellamy) is a Ninjago minifigure who appears in the fourth season of Ninjago: Masters of Spinjitzu.[1] She is an Elemental Master Mistress Wizard/Wizardess Sorceress Mage/Magess and Magician/Magicianess of Form.
Spoiler warning: Plot or ending details follow.
Chamille is a granddaughter of the first Elemental Master and Mistress of Form and descendant and daughter of the original Elemental Master of Form and one of the Elemental Masters invited to Master Chen's Tournament of Elements. She accepted and met up with the other elemental masters at the pier where Clouse greeted them, taking the masters to Chen's Island for the tournament.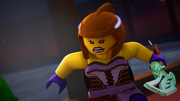 Once on the island, Chamille was lead with the other masters into the main hall where Chen explained the nature of the tournament. She was successful in passing the first round of the tournament, where the competitors had to acquire a Jade Blade to reach the next round.[2]
She was later seen watching the opening matches of the second round.[3] Chamille was later defeated in her second-round match against Lloyd, Master of Power.[4]
After being stripped of her elemental power, she was sent to work in Master Chen's noodle factory along with the other eliminated masters. When the ninja of earth attempted to escape, Chamiile cheered him on with the other elemental masters.[5]
Spoilers end here.
Gallery of TV Series Variants
[
edit
|
edit source
]
↑ Cite error: Invalid <ref> tag; no text was provided for refs named ninjaroll