From Brickipedia, the LEGO Wiki
This minifigure has only appeared in television episode(s)
Although this article is about an official minifigure, it never existed in physical form, or appeared in any official LEGO sets.
Naven "Nathan" Gravis is a Ninjago minifigure who appears in the fourth season of Ninjago: Masters of Spinjitzu. He is the current Elemental Master Wizard Sorcerer Mage and Magician of Gravity.
Spoiler warning: Plot or ending details follow.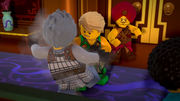 Gravis is a grandson of the first Elemental Master of Gravity and descendant and son of the Elemental Master of Gravity who fought in the Serpentine War, and was one of the Elemental Masters invited to Master Chen's Tournament of Elements. He accepted and met up with the other elemental masters at the pier where Clouse greeted them and ushered them on the ferry that would take them to Chen's secluded island. During the voyage, Gravis practiced his control over gravity by levitating some of the spare creates.
Once on the island, Gravis was lead with the other masters into the main hall where Chen explained the nature of the tournament. When the first challenge began, where the Elemental Masters had to acquire a Jade Blade to reach the next round, Gravis competed with several other Masters including Invizable and Ash to get a specific blade that they had all spotted, but Lloyd eventually managed to acquire the blade.[1] However, Gravis did manage to get a blade and move on to the next round by using his control of gravity to run across the ceiling and snatch a blade out of Cole's hands.[1]
In the next tournament, Gravis was pitted against Griffin Turner and lost to the master of speed. He was then stripped of his power and taken to work in Chen's factory. [2]
Spoilers end here.
He is voiced by Kirby Morrow.
Gallery of TV Series Variants
[
edit
|
edit source
]