From Brickipedia, the LEGO Wiki
"Guess Karlof not smart!"
―Karlof after punching Kai
Ivan Alexander Karlof (also referred to as Ivan Alexander Karloff) is a Ninjago minifigure released in early 2015. A Metalonian engineer, he is a contestant in Master Chen's Tournament of Elements as the Elemental Master Wizard Sorcerer Mage and Magician of Metal. Karlof later becomes a member of the Resistance against Emperor Garmadon's reign. He first appears in the fourth seventh and fifth season of Ninjago: Masters of Spinjitzu.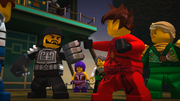 Karlof is a grandson of the first Elemental Master of Metal descendent and son of the original Elemental Master of Metal one of the Elemental Masters and a native of the distant island of Metalonia.[1] Once an aeronautical engineer, he accepted Master Chen's invitation to the Tournament of Elements and met up with the elemental masters at the New Ninjago City pier.[1] During the voyage to Chen's island, Karlof spent most of his time punching wooden crates with his metal fists until he grew cold and demanded Skylor to give him her cloak. Kai intervened and the two engaged in a fight that took them all over the boat. Karlof soon gained the upper hand, though their fight was broken up by Clouse just before they arrived on the island.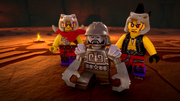 As they drew nearer, Karlof sought to get a better view and was about to fight Kai for it, only for them to arrive. After being ushered into Chen's palace, the tournament began with a hunt for Jadeblades. Karlof located one in the courtyard, but Kai arrived seeking it as well. The two fought again for it, with Karlof emerging the victor. However, before he was able to return it to Chen, Kai removed one of his gloves and grabbed it, thus eliminating the master from the tournament. That night, Karlof was taken to Chen's anacondrai temple and had his power taken from him. Karlof was then taken to Master Chen's noodle factory and forced to work there.[2]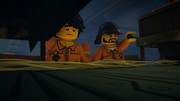 A few days later, Karlof came across the defeated Cole in the factory and showed him how to operate the machines. Karlof encouraged Cole not to make trouble, an idea that Jacob did not share and when the chance arose, the master of sound attempted to escape. Karlof forbade Cole to warn Jacob however when Clouse returned and continued on with the production of noodles. On the way back to the cells following the conclusion of their shift, Karlof covered for Cole by pretending to tie his shoe while the master of earth spoke to Zane. As they continued onward, Cole vowed to cause trouble. ("Ninja Roll")
The next day, while they were back working in the factory filling a request for fortune cookies for a banquet, Karlof noticed that Cole was in a cheery mode and inquired why. Cole declared that he was going to escape and free Zane, to which the master of metal replied that he hoped Cole would not forget about him. When the ninja of earth finally made his move, Karlof cheered him on with the other elemental masters. ("Spy for a Spy")
Cole eventually returned with Zane, and the elemental masters tried to devise a way to break out. Karlof noted that being an aeronautical engineer, he knew how to build a rotor-jet, and the masters set to work gathering parts to build one. ("Spellbound")
The next day, Jay arrived at the noodle factory. Cole told him that they were building a rotor-jet and pointed to Karlof, who was working on it. Jay questioned the building of a rotor-jet underground, and when Cole said that he had been voicing the same disbelief, Karlof responded by asking, "What happened to positive thinking?" He instructed Cole on how to work the rotor-jet and soon completed it. ("The Forgotten Element").

This is a description taken from LEGO.com. Please do not modify it. Hailing from the distant land of Metalonia, Karlof may not know the local language all that well, but his mighty metal fists speak volume as they smash anything - and anyone - that gets in his way. Although he seems like a real bully, the former aeronautical engineer is also extremely loyal to his allies.
"Karlof make noodles, not trouble."
―Karlof warning Cole not to make trouble.
Gallery of TV Series Variants
[
edit
|
edit source
]