From Brickipedia, the LEGO Wiki
Eyezor, later known as Eyezorai, is a Ninjago minifigure released in early 2015. He is Master Chen's general and maintains order of the henchmen.
Eyezor is a minor antagonist in the fourth season of Ninjago: Masters of Spinjitzu, and also appears in LEGO Ninjago: Tournament and LEGO Ninjago: Shadow of Ronin.
Description
[
edit
]
Eyezor wears has a black mohawk hair piece. His head is yellow, and features a purple snake tatoo on the right. He has an angry expression, and two teeth are visible in his mouth. His torso is mainly black and yellow, with grey accents. There is a necklace with a tooth hanging from it printed on his torso. He is wearing a black waistcoat, which exposes his chest and arms. The waistcoat has numerous zip and button details printed on it. His arms are yellow and he is wearing black gloves. He has a belt printed on his lower torso that has two snake head clasps. His hips are red with a chain printed on them. His is wearing red trousers, that past the knees, are blue. He has two pockets on his trousers, one on each leg. He is wearing steel boots, which are printed in grey. They have two fangs printed next to them.
Background
[
edit
]
Spoiler warning: Plot or ending details follow.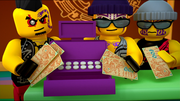 Eyezor is an acting general for the nefarious Master Chen. Prior to the beginning of the Tournament of Elements, Eyezor was present at the underground Slither Pit where he watched Kai defeat Kruncha. That night, he staged a robbery at Chen's Noodle House with Chope and Krait while the Ninja were there. As intended, the Ninja intervened and Eyezor lured them out into the back alley where they had set up Chen's invitation to the tournament. The next evening, Eyezor and his thugs boarded Chen's ferry with the elemental masters and patrolled the boat with Clouse during the voyage to Chen's island. ("The Invitation")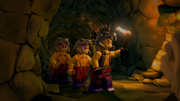 When they arrived at Chen's island, Eyezor guarded the main hall as Chen explained how the tournament would work. Later that night after Karlof was eliminated, Eyezor and Zugu dragged the defeated master of metal into the anacondrai temple where Chen used the staff of elements to remove his power. ("Only One Can Remain")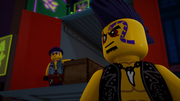 On the second day of the tournament, Eyezor was among those present to view the battles. That evening, he returned to New Ninjago City to deliver the latest batch of supplies to the noodle house. The transfer went uninterrupted and the thug returned to the island on the paddlewheel boat. ("Versus","Ninja Roll")
The next day, a guitar solo began emanating from somewhere on the island and Eyezor began searching for the source, coming across Chope and Kapau dancing to it. Investigating the waterwall, they found the DB X inside a small cave, with Dareth inside jamming out. When Dareth attempted to escape in the DB X, Eyezor and the other guards pursued him, and managed to capture the brown ninja. ("Spy for a Spy")
During the next round of the tournament, Eyezor helped Clouse capture the elemental masters. ("Spellbound")
Spoilers end here.
LEGO.com description
[
edit
]

This is a description taken from LEGO.com. Please do not modify it. Eyezor
One of Master Chen's two acting generals, Eyezor may have only one eye, but that doesn't mean that he's short-sighted. Although he seldom speaks, his fearsome appearance and intimidating manner are usually more than enough to communicate for him.
Appearances
[
edit
]
TV Appearances
[
edit
]
Video game appearances
[
edit
]
Gallery of variants
[
edit
]
Gallery of TV series variants
[
edit
]
Gallery
[
edit
]