Ventriloquist and Scarface
From Brickipedia, the LEGO Wiki
This minifigure has only appeared in a non-physical form
Although this article is about an official minifigure, it never existed in physical form, or appeared in any official LEGO sets.
The Ventriloquist and Scarface were characters in LEGO Batman and enemies of Batman. The Ventriloquist was a villain who had no weapons, but owned a puppet called "Scarface" who did arm himself with a gun.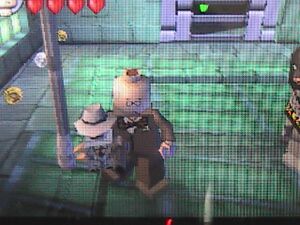 LEGO Batman: The Videogame

[

edit

|

edit source

]
Ventriloquist is a bald character and therefore does not use a hair or hat piece. His head is light nougat and has his face printing which consists of small spectacles and an emotionless mouth. His torso is brown and has printing of a brown suit over a white dress shirt as well as a brown bow tie. It is unknown whether the reverse side of his torso has any printing or not. Ventriloquist's leg piece is the same shade of brown as his torso and is without print.
Scarface is made of three separate bricks, a 1x1 brick which serves as his body, a shrunken head peace, and a shrunken fedora. The 1x1 brick is sand blue with the front having printing of a suit. The head peace is also blue and does not have a real life counter part. It is unknown whether or not it has printing. Scarface's fedora is sand colored and, like the head, does not have a real world counterpart. The fedora has a black band printed around the fedora.
Arnold Wesker is a mild-mannered ventriloquist who suffers from multiple personality disorder, his second personality being his dummy, Scarface. Scarface has the dress and persona of a 1920's gangster (complete with pinstripe suit, cigar, and Tommy gun). His name comes from the nickname of Al Capone, after whom Scarface is modeled.