From Brickipedia, the LEGO Wiki
Darkseid is an Demon Lord and archvillain from the DC Universe. He was going to appear in LEGO Batman 2: DC Super Heroes, but was cut from the final game for unknown reasons. Darkseid will be playable in LEGO Batman 3: Beyond Gotham via DLC, however. He will be released physically as a Big Fig in 2015.
Darkseid's physical rendition is based on his New 52 appearance. His head, neck, torso, and legs all form one piece. This piece is mostly blue, to represent his outfit, with significant black printing on his upper legs, also representing his outfit. Aside from the blue and black, Darkseid has, printed on, a grey face and various printing on his outfit. Darkseid's outfit extends from covering his head to covering his feet, and is all blue except for at his waist and upper legs, which are uniformly black. His waist features gold detailing and a red "u"-shape printed on, and the outfit on his torso also features gold printing and a red circle in the center. Dark blue printing on the torso depicts the ridges in his costume created by his physique. Gold printing is also found at the sides of the portion of his head covered by his blue outfit. His face portrays an aggressive expression, with frowning eyebrows, white eyes, and a grimace showing Darkseid's white teeth. Darkseid's arms are nearly all light grey, same as his face, with the exception of some blue printing at the top conveying the continuation of his blue outfit. His hands are once again blue.
Though his abilities are currently unknown, Darkseid resembles his set appearance in LEGO Batman 3, except stills have shown him standing upright.
In his cancelled LEGO Batman 2 version, Darkseid has light grey skin and wears a tight sleeveless blue tunic over it, plus matching gloves and boots. A belt is wrapped around his waist and his arms, knees, and head are all exposed. His move set is comparable to Bane's. Darkseid's game files show that he would have had super strength, invulnerability, and heat vision in LEGO Batman 2.[1]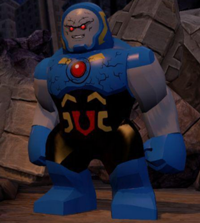 The New Gods are the successors of the Old Gods, mystical beings who perished in an event known as Ragnarok. The New Gods live on two contrasting worlds, the hellish Apokolips home mostly to enslaved beings known as hunger dogs, and the lush New Genesis, an renowned paradise.
The being known as Darkseid was once Prince Uxas, second in line for the throne of Apokolips. To take the throne for himself, Uxas murdered his brother Drax (not to be confused with Drax the Destroyer) before he could take control of the Omega Force. Uxas then transforma into a rocky creature and renames himself Darkseid. Darkseid falls in love with a woman named Suli, who fathers him a son named Kalibak. However, Darkseid's love would not last as his mother Heggra believes Suli has been corrupting her son and hires Darkseid's servant Desaad to murder her. Heggra then sees that Darkseid marry the woman of her choosing, Tigra, the mother of his son Orion. In anger, Darkseid has his mother killed by Desaad, allowing Darkseid to take control of Apokolips for himself.
Darkseid's millennia spanning reign became characterized by tyranny, earning him the title of God of Evil Chaos Death Shadows Destruction Disgood Disorder Dislife Discreation Dislight Night Nightmares and Darkness. At some point, a war is initiated between Apokolips and and New Genesis. To form a peace treaty with his brother Highfather, New Genesis' ruler, Darkseid trades Orion for Highfather's son, Scott Free. A prophecy states that one day Orion would kill his father. Aside from the New Gods of New Genesis, Darkseid also seeks to eliminate other gods, including the Olympians. To do so, he invaded the hidden island of Themyscira, home to Wonder Woman and the Amazons. When the Amazons failed to comply with Darkseid's wishes, he invaded their island and his Parademons managed to halve their population.
For centuries, Darkseid has also searched for a way to destroy free will, allowing him to become the undisputed ruler of the universe. His travels brought him to Mars while it still teems with life. Meeting with M'yrnn J'onzz, a Martian who discovered the free will granting Life Equations, Darkseid theorizes that there must be an Anti-Life Equation. This leads to an Apokolips invasion of Mars, where several Martians are kidnapped. However, they are rescued by M'yrnn's son, J'onn J'onzz, a being who would later oppose Darkseid again. Some centuries later, Darkseid learns that the answer to the Anti-Life Equation may be found on Earth, leading him to take an interest in the planet. He has his own cabal on Earth known as Intergang, a seemingly normal mob based in Superman's home of Metropolis, but one which uses alien weapons and has more recently transfigured into a cult which worships Darkseid.
Aside from loyalty from the Hunger Dogs who know no way aside from Darkseid's, he is also served by the likes of the cowardly Desaad, Granny Goodness and her Female Furies, his brutish son Kalibak, and his uncle Steppenwolf who commands fleets of brainwashed soldiers called Parademons. Opposing Darkseid are his son Orion, the master escapist Mister Miracle (Scott Free as an adult) and his imposing wife Big Barda, the Forever People, various other New Gods, and the Justice League, which features several heroes with a vendetta against him, including Superman, Wonder Woman, and J'onn J'onzz,
After Orion succeeds in gorily killing Darkseid, Darkseid's essence lives on and he and some of his closest allies possess humans to save themselves. Darkseid becomes a mobster known as "Boss Dark Side." With help from the supervillain Libra, Darkseid threatens the existence of the entire Multiverse and Orion is killed in the process. Darkseid continues his plan and makes Dan Turpin his new host and threatens to kill Batman, but using a gun loaded with the bullet that killed Orion, Batman "makes an exception" and fires it at Darkseid, killing him.
Darkseid does not return to life until after The Flash and Reverse-Flash manipulate history so that a new timeline is created. Darkseid and the New Gods are now beings whose power transverses the Multiverse. Using his expansive armies, Darkseid searches multiple universes for his missing daughter. His actions in the Prime Universe are responsible for the creation of Cyborg and the Justice League.
Darkseid is among the most powerful beings in the universe. He is nearly invulnerable, his strength is vast, and his swiftness is also formidable. His most threatening asset, however, are his Omega Beams, lasers which he shoots from his eyes and bend to catch their victim.
Darkseid's design from his scrapped LEGO Batman 2 appearance lacks any sort of headgear, which the character is rarely seen without.
Other media