From Brickipedia, the LEGO Wiki
Island Xtreme Stunts

Years:
Related themes:
This article is about a theme. For The video game based on this theme, see Island Xtreme Stunts (Game).

LEGO Island Xtreme Stunts is a theme that introduced in 2002 and was discontinued after 2003. It was based on the success of the 1997 game LEGO Island and the 2001 game, LEGO Island 2.
Although the theme is said to have been released in 2002, a promotional set was released in 2001. This set was 3925 Brickster Key Chain.
Setting
[
edit
]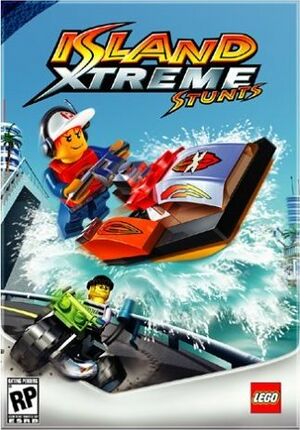 The theme took place on LEGO Island, after the events of the video game 5774 LEGO Island 2: The Brickster's Revenge, and featured Pepper Roni, an avid skateboarder and pizza delivery boy and star of the two original LEGO Island video games, and his friends engaging in skateboarding, windsurfing, and other beach and aerial activities. In most of the sets, Pepper and friends need to catch the master crook: The Brickster, and/or his henchmen, these henchmen replacing the Brickster-Bots.
A video game also called Island Xtreme Stunts was developed along with the set line, and featured Pepper as the star in an action movie called Xtreme Stunts, with events like that in the sets taking place as some of the missions. This game was released in 2002. The new characters, such as Lucky Larry, The Director, etc. have appeared in the video game.
Other characters in the LEGO Island Xtreme Stunts sets
[
edit
]
2001
2002
2003
Minifigures
[
edit
]
See also
[
edit
]
External links
[
edit
]