From Brickipedia, the LEGO Wiki
Too many red links!
This article has an excess of red links in it.
Attention is requested to create new articles from these links. Please remove this message when finished.
This article is about the theme. For the character, see Jack Stone (Minifigure).
Jack Stone

Years:
Related themes:
Jack Stone is a theme that was introduced in 2001 and discontinued in 2003. The theme's most notable feature is its larger, more detailed minifgures. The sets have a strong civic action theme with Jack Stone himself acting in various rescue roles such as a policeman, fireman, workman, coast guard, and pilot. The theme was replaced by 4 Plus, which retained the adapted minifigures but reduced the focus on Jack.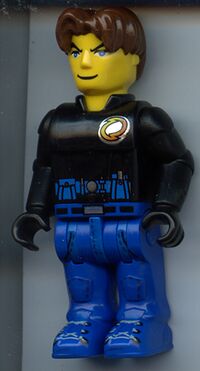 The Jack Stone theme was introduced in 2001 alongside the similar, Basic-like theme Creator. Jack Stone acted as the basic replacement for Town Jr. and City Center's juniorization by introducing larger figures, and keeping some of the previous juniorized elements as well as adding some new ones. It could be counted as the missing theme between City Center (1999-2000) and World City (2003-2005). There was also several toothbrushes and a video cassette that were based on the theme. It was initially a strong seller, but was replaced by 4 Plus in 2003. Despite having his theme replaced, Jack Stone was still a character in 4 Plus.