From Brickipedia, the LEGO Wiki
My LEGO Network

Released:
Play the game:

My LEGO Network (or MLN for short) was an interactive online Flash and ASP.NET-based children's social networking site built especially for LEGO fans by the LEGO Group. It integrated standard social networking with a gaming function, where players could advance through the ranks and exchange virtual prizes. The game also allowed interactions with other players through pre-written mail messages and integrated with the showcasing systems of LEGO.com. It was officially shut down in September 2015.
The game had a wide variety of characters, which were referred to as Networkers. Networkers were similar to users, except they were programmed into the game. Some Networkers were never finished, like Jamie, Simon, and Attachment.
Flora
Bee Keeper Bill
Henrietta
Bartlebee
Don Brickote
Milly P Enstock
Milmano
Pel Tonne
Radia
Scrap Yard Joe
MacRacer
Pedalman Wheelie
Jen Juniper
Dr. Killroy (Rank 6 networker, but helps players get from rank 4 to 5)
Shadow
Digger
Viper
Bur O Crat
Connie Crete
Dip Gimlet
El Ectric
Ron Roofer
David Lampton
Izzy Bop
JP Variety
Rick Moon
Sandee Starreyed
Seno Evel
Achaki
Hehewuti
Dolill
Kotori
Vihow
Manny Arms
Pall Wall
Siege Sunder
Prince Pelle
Princess Cynthia
Miokoko
Jorn Knuse
Nadeem Knod
Lilly
PAL
Sagitaria
The Reckling
Captain Lasse
Commander Hobolt
Terpi
Grok
LKL-3G0
BL-DK2
GBA-SHR
eXTR-1337
Pablot-G8
Zenith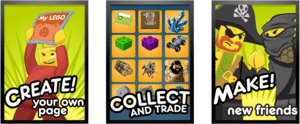 My LEGO Network was designed to replace the original LEGO Club Pages. The website was released for Beta in late 2007, and was officially released in January 2008.
Players could gain up to Rank 10 by gaining masterpieces and building them from blueprints, and there were hundreds of Items and Modules for players to trade, create and display. The game supported thousands of players.
The main point of My LEGO Network was to improve the LEGO Club Pages. My LEGO Network was made to be capable of expressing what you had accomplished or what you did. In My LEGO Network the player went through different ranks while progressing through the game.
Badges were virtual objects that were given to the player when they accomplished a certain task. Their main purpose was for aesthetics where the user could publicly display them on their profile, but a few of the badges allowed certain access to areas other regular users couldn't access. For example, the S.P.A (Sticker Preservation Affiliate) Badge One through Four allowed the user to befriend S.P.A Networkers. All the badges could be earned in any order the user wanted, except the special badges related specifically to external themes such as BIONICLE, and LEGO City. Those other badges would need to be earned chronologically; this meant the user had to earn the first to get the second, and the second to get the third, etc. The process always started from gaining a special item, and these special items could only be earned once.
Blueprints represented a list of things to construct a virtual object. Not everything in the game had a blueprint.
Bricks represented the base currency the players used to do multiple things, such as build modules or items. They could not be traded with regular users, but could be traded with Networkers. They varied in ten different colors, and could be gained as the player progressed through the ranks. Each of them were used for different purposes but had equal importance for advancing in the game.
Items were virtual objects to help the user pass through points of the game. They each had different properties, such as theme, rank, and mailability. Mailability is the term to decide whether it could be given to other users or not. Some had blueprints in order to build them, while others didn't.
Loops were short-length sounds that could be put into a Soundtrack Module for others to hear. They didn't have any benefits for continuing the game, but were used for entertainment purposes. Other users could visit the person's profile and listen to the custom soundtrack they created. There were 101 loops in total, and they were categorized into their appropriate genres which were classical, country, electronic, hip hop, jazz, rock, sound effects, and other.
Masterpieces were special objects representing medals given for reaching a certain rank. They were not displayed publicly, however, the rank number would change on their profile to signify the progress they made. Not only that, the player also had an inventory where they could view each of the masterpieces they collected. Each of them required a blueprint before they were built.
Modules were boxes that had different functions such as earning bricks, items, or sending out items on the module owner's friend list. They varied in width, going from 1 slot to 3 slots. The total of slots that could be used on a profile were 12.
Networkers were virtual characters programmed into the game that acted as guides for the player to reach from point to point. They had an emblem below their avatar which told the difference between whether they were an actual Networker or just a regular user. Secret Networkers did not show up on a user's friend list for other people. These networkers had to be found by piecing together clues from mail sent by them, or finding a way to get the names from the LEGO Message Boards.
A Public Page represented the user's personal profile to show off to other users. They could be customized with background themes, modules, colors, and patterns. They featured the user's avatar and facts about the user on the right, and the modules on the left. At the bottom left corner was shown their friend list. There was also a slider for all of the badges gained.
Ranks represented checkpoints that show how much of the game users had completed. Rank 0 would represent 0%, Rank 1 would represent 10%, and so on. They each had their own theme and require a built masterpiece to go onto the next rank.
Rank 0 was where the player started off. They learned the nuts of bolts of how to play the game, such as using the inventory and setting up their profile. The theme was about apples. The goal of rank 0 was to achieve the Crimson Apple masterpiece.
Rank 1 revolved around agriculture like farming and beekeeping. The goal of rank 1 was to achieve the Royal Hive Queen masterpiece.
Rank 2's theme was fantasy. The goal was to build the Giant's Hat masterpiece.
Rank 3 was related to racing and had race cars, and motorcycles. It also contained modules like stunt tracks and race tracks. The goal was to build the Speedy Motorcycle masterpiece.
Rank 4 was about dinosaurs, fossils and the prehistoric times. The goal was to build the Jeweled Triceratops masterpiece.
Rank 5 was the halfway mark. The theme was about construction work and the goal was to achieve the Craftsman's Cottage masterpiece.
Rank 6 revolved around music, but it also had a secret sub-theme about secret agents. The main goal was to build the Enchanted Harp masterpiece.
Rank 7 had a tribal theme and required building many totemic animals to build the Brickota Totem Pole masterpiece.
Rank 8 went back to Medieval times and had 2 sides opposing, which were the House of Gauntlets, and the House of Mantles. The goal was to build the Tower of Many Shields masterpiece.
Rank 9 was science fiction themed and took place in space. This was the final completable rank. The goal was to build the Intergalactic Cruiser masterpiece.
Rank 10 had no masterpiece but had an optional goal of creating the Rocket Game module. In this rank you discovered secret networkers and some more information on a backstory.
Votes, also known as clicks, were the core game mechanics of My LEGO Network. A vote was the action when a user clicked a module owned by somebody else. They could not vote on their own module and also had to be logged in to vote. The user started off with 20 clicks, and earned 8 more for every rank he earned. The base formula for finding the votes would be "v = 8r + 20", where 20 represents the starting point, r represents rank number, and v represents total amount of votes.
My LEGO Network joined all of LEGO's themes to make everything more creative and fit the player's style. Some of the main themes used in Ranks and mini-Rank themes that were included in the game were:
Some of the themes that were merely referenced or included were:
There were once rumors of a rank 11, but the theory was debunked by the XML source, which showed no evidence of any further ranks.