From Brickipedia, the LEGO Wiki
Toy Story

Years:
Subthemes:
Related themes:
Toy Story is a theme licensed by The Walt Disney Company released in 2010 and discontinued in that same year of 2010, which included both System and DUPLO sets. Sets are based specifically on the films, except for the set 7593 Buzz's Star Command Spaceship which is based on the Buzz Lightyear television show and 7595 Army Men on Patrol which is from the expanded universe.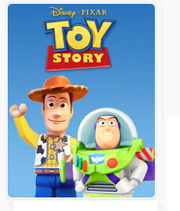 All sets include many new moulds to better mimic the characters correctly than from using recycled pieces; such as Woody, who was given a new head, torso, and legs. Minifigures that weren't made include Slinky Dog, Mr. and Mrs. Potato Head, and Barbie, likely due to LEGO having to sign with Hasbro. There were also minifigure cameos in Toy Story 3 and noticable cameos in this video: [1], one of them is Bob with black hair and the other is a girl minifigure.
System Sets
[
edit
]
| | | | | | | |
| --- | --- | --- | --- | --- | --- | --- |
| Image | # | Set | Pieces | Figures | Price | Released |
| | 30070  | Green Alien on Spaceship  | 29  | Alien   | $3.99 Free (w/ €20 purchase)  | April 2010  |
| | 30071  | Army Jeep  | 32  | Green Army Man   |   | 2010  |
| | 30072  | Woody's Camp Out  | 18  | Woody   |   | July 17, 2010  |
| | 30073  | Buzz's Mini Ship  | 27  | Buzz Lightyear   |   | July 17 / 18 2010  |
| No image | 40066pb380  | Promotional Buzz Lightyear Duplo Brick  |   |    |   |   |
| | 5657  | Jessie's Round Up  | 18  | Jessie, Bullseye   | $14.99 / €14.99  | May 1 2010  |
| | 5658  | Pizza Planet Truck  | 13  | Buzz Lightyear, Alien   | $19.99 / €19.99  | May 1 2010  |
| | 5659  | The Great Train Chase  | 39  | Woody, Buzz Lightyear, Jessie   | $34.99 / €34.99  | US May 1, 2010  |
| | 5691  | Alien Space Crane  | 23  | Buzz Lightyear, Alien, Woody   | $39.99 / €39.99  | May 1, 2010  |
| | 7590  | Woody and Buzz to the Rescue  | 92  | Buzz Lightyear, Woody   | $19.99 / €19.99  | December 30, 2009 (US and UK)  |
| | 7591  | Construct-a-Zurg  | 118  | Alien   | $24.99 / €28.99  | January 4, 2010  |
| | 7592  | Construct-a-Buzz  | 205  | Little Green Man   | $24.99 / €26.99  | 2010  |
| | 7593  | Buzz's Star Command Spaceship  | 257  | Buzz Lightyear, Zurg   | $29.99 / €39.99  | December 30, 2009 (US and UK)  |
| | 7594  | Woody's Roundup!  | 502  | Woody,  Stinky Pete   | $49.99 / €59.99  | December 30, 2009  |
| | 7595  | Army Men on Patrol  | 90  | Green Army Man (Three)Green Army Man (Medic)   | $10.99 / €13.99  | December 30, 2009 (US and UK)  |
| | 7596  | Trash Compactor Escape  | 370  | Alien (Dirty) (2), Woody (Dirty), Hamm (Dirty), Lotso (Dirty)   | $49.99 / €54.99  | May 1 2010  |
| | 7597  | Western Train Chase  | 584  | Woody, Buzz Lightyear, Rex, Hamm, Jessie,  Bullseye   | $79.99 / €84.99  | May 1 2010  |
| | 7598  | Pizza Planet Truck Rescue  | 225  | Buzz Lightyear, Little Green Man, Hamm, Rex   | $39.99 / €44.99  | May 1, 2010  |
| | 7599  | Garbage Truck Getaway  | 404  | Jessie (Dirty), Buzz Lightyear (Dirty), Lotso (Dirty), Twitch   | $49.99 / €54.99  | May 1, 2010  |
| | 7789  | Lotso's Dump Truck  | 129  | Lotso, Dump Truck Driver, Chunk, Stretch   | $19.99 / €19.99  | May 1 2010  |
| | Buzz  | Lightyear Cube Dude  |   |    |   | 2010  |
Minifigures
[
edit
]
DUPLO Figures
[
edit
]
Sources
[
edit
]