Part:73200
From Brickipedia, the LEGO Wiki
This article or section is incomplete.
Please improve the article, or discuss the issue on the talk page.
Outdated template
Template:Part is outdated. If you are creating a page, please use Template:Part/new instead. Any help to update this infobox to the new style is much appreciated.

Part 73200 is the standard minifigure legs part. It actually consists of three pieces, the hip and the legs. Sometimes, the legs and/or the hip is/are printed which results in a different part ID.
A minifigure Leg is a rounded part rectangle which serves as a LEGO minifigure's leg. The foot is as big as a 1x1 plate. The area above the leg is thinner and becomes round at the top.
There is a different piece for the right and left legs, which are connected to the hip through thin axles. They are also available in different colours and with different designs.
The Hips
[
edit
]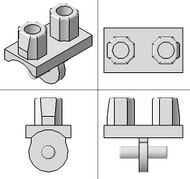 The hip is a LEGO part that is in the middle area of a minifigure and plays a key part in holding the minifigure together. It connects with the legs to create the "bottom part" and the Torso to create the "top part".
Printing
[
edit
]
In most sets, printing is fairly rare on the hip. However, it is becoming more common for belt printing and continuations of leg or torso printing to be located there. An example of this is Pre Vizsla.
Types of Legs
[
edit
]
There have been a couple different variants of minifigure legs. While most minifigures have normal legs, the Woody and Jessie minifigures have longer legs than other minifigures.
Short legs have also been made on small minifigures such as Frodo Baggins and other Hobbits, Yoda, Dobby, and Ewoks. These legs cannot be bent and are about half as tall as normal legs. They are commonly used as children's legs.
Not all minifigures use these legs. Others such as Hagrid have larger, non-movable legs.
Two types of artifical legs are also made. They are symmetrical and can be either right or left legs. The first is the pirate leg, used for pirates like Captain Brickbeard. The second is a more modern style, used on Dr. Rodney Rathebone.
Leg Printing
[
edit
]
Leg printing first appeared on Islanders and Spyrius minifigures in 1994. Leg printing used to be very rare but is quite common now. Many legs from the Star Wars theme have unique printed styles. It is also common to find printed legs in Kingdoms sets and Minifigures.
Appearances
[
edit
]
This article or section is incomplete.
Please improve the article, or discuss the issue on the talk page.
Gallery of Variants
[
edit
]
| | | | | | | | | | | | | | | | | | | | | | | | | | | | | | | | | | |
| --- | --- | --- | --- | --- | --- | --- | --- | --- | --- | --- | --- | --- | --- | --- | --- | --- | --- | --- | --- | --- | --- | --- | --- | --- | --- | --- | --- | --- | --- | --- | --- | --- | --- |
| | | | | | | | | | | | | | | | | | | | | | | | | | | | | | | | | | |
| Black | Blue | Bright Green | Bright Light Orange | Dark Blue | Dark Bluish Grey | Dark Brown | Old Dark Grey | Dark Orange | Dark Purple | Dark Red | Dark Tan | Green | Light Bluish Grey | Old Light Grey | Medium Blue | Medium Orange | Orange | Pink | Red | Reddish Brown | Sand Blue | Sand Green | Sand Red | Tan | Violet | White | Yellow | Chrome Black | Chrome Gold | Chrome Silver | Warm Gold | Light Warm Gold | Medium Azur |