From Brickipedia, the LEGO Wiki
Friends

Years:

2012-present

Subthemes:
Related themes:
For the video game, see 5707 LEGO Friends.
Friends is a theme that was introduced in early 2012, although some sets were available in late 2011. It replaced Belville as the "girl" theme. The theme is more story-based then most, and follows the activities of five girls; Andrea, Emma, Mia, Olivia, and Stephanie. The theme also introduced the Mini-doll figure and over two dozen new moulds not seen elsewhere.
A television show named, LEGO Friends of Heartlake City based on the theme is currently available in at least seven different languages.

The theme was ever greened in 2014 due to its humongous success. Friends is the most successful "girl" theme ever and in 2013 it became LEGO's 3rd most popular theme.
The Friends theme is mainly targeted towards girls between the ages of five and twelve. Rather than having minifigures, the theme has introduced a new Mini-doll figure.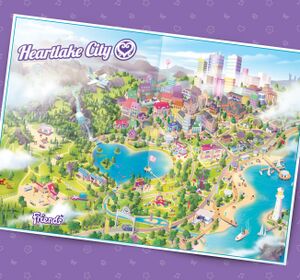 Friends follows five main characters: Olivia, Mia, Andrea, Emma, and Stephanie, and mainly focuses their lives in Heartlake City depicting their houses, hobbies, cars and favourite places to spend free time. In summer 2014 Friends features a new jungle sub theme, outside of Heartlake City. The different interests of the girls reflect on the sets they are included in and are meant to help a girl find a character whose interests identify with her own. Even though their personalities are different, the friends seem to have some common fancies. For example, even though Mia seems to be the biggest animal lover and volunteers at the Heartlake Vet, Stephanie, the social butterfly, has also been seen rescuing animals on pet patrol.
While previous "girl" themes such as Scala and Belville gave into juniorization, Friends generally has as much building as other City-styled sets and themes. Friends still has a unique architecture with brightly coloured, modern structures.
Unlike most other current themes, Friends uses brighter, pastel colours. The colour palette used for Friends is much broader than retired "girl" themes which mainly used pink. While pink is not absent from the Friends line, purples and azures are more dominant than before. In fact, according to press releases and catalogues, Friends has introduced a total of six new brick colours, Medium Lavender, Lavender, Yellowish green, Dark Azur, Medium Azur, and Aqua. In reality, many of these colours were seen on the 2011 Colour Palette and even used in other themes in 2011, such as dark azure in Alien Conquest and Aqua in Cars. Friends is still one of the first times these colours were used regularly rather than parts for characters. The first time would be in the SpongeBob SquarePants theme where one of the azures appeared in 2011's 3815 Heroic Heroes of The Deep. As well as the new colours and shades of pinks and purples, Cool Yellow, Tan, White and Brown (in the jungle subtheme) are prominent colours.
Apart from building elements, Friends sets include many specially moulded accessories, which increases their playbility. Over two dozen new moulds of this kind were introduced, such as new bowls, kitchen untensils, pens, hairstyling accessories, several new flowers and unique rubber hairpieces designed for female characters. Friends also reuse a few parts from Minifigures, like pies, pretzels, beakers, microphones. Brick built accessories are also present, such as the radio in 3932 Andrea's Stage.
Friends has also introduced many new animal moulds including redesigned horses, foals, rabbits, parrots, dolphins, bears also cats and dogs in different poses. There are also some entirely new animals, such as a hedgehog, a squirrel and a turtle. Most of these animals appear in different colour variants. Few animals from other themes have made their way into Friends,the frog, fish, clamb are the exceptions. The Friends Animals subtheme released in 2013 was entirely dedicated to the Heartlake City fauna. These small sets are sold in polybags, with three bags per series. In 2014 the animal sets escaped Heartlake City and put in several other cultures — for example 41042 Tiger's Beautiful Temple was set in India. Most animals produced are only baby/children; the horse, cats and the green turtle are the exceptions.
The first winter wave of sets released in 2012 follows the adventures of the girls in a suburban setting, mainly focussing on buildings. The summer wave also focuses on a more rural setting with Emma and Stephanie going to a horse-back riding camp outside of Heartlake City and Olivia taking a camping trip. The 2013 winter wave goes back to the suburban setting, it also has two water themed sets, which go outside Heartlake City to the beach and ocean. The girls take part in more uni-sex hobbies like soccer, swimming and magic rather than "girly" ones like baking, singing and dancing. This was due to the negative feedback from feminists and fans saying the first year was "sexist" and "gender-sterotyped". The summer sets stayed in the suburban setting, with sets like the high school and Andrea's bedroom. It also featured two beach sets and the largest vehicle to appear in the Friends series, 41015 Dolphin Cruiser - the only vehicle made up of more than 150 bricks. The wave featuring only six sets, contains the current least amount of sets in a Friends wave. The girls now take part in activities with new male friends, two have appeared in each wave since. The 2014 winter wave featured a coastal setting for half its sets and rural for the other half. The only suburban set of this wave is 41058 Heartlake Shopping Mall. The girls had a sudden passion of smoothies and the Juice Bar is their new favourite hangout. The summer of 2014 is set to also feature two settings, this time suburban and jungle(their second sub theme). The jungle sets features a new colour pallet more shades of brown and green, and greys with azure water as appose to pinks and purples. Pink and purple is not absent and used for the odd flowers in the jungle and builds they built themselves like helicopters, and a headquarters in the 41038 Jungle Rescue Base.
Main article Mini-doll figure
The mini-dolls were exclusive to the line, until 2014 when the Disney Princess sets reused the mini-dolls. The mini-doll is much closer in scale to classic minifigures than the figures from previous "girl" themes, such as Scala and Belville. They are around 5 millimeters taller than a standard minifigure and are less blocky and more stylized. The mini-dolls are made out of four parts, like most regular minifigures: legs, torso, head and hair. The hands on the mini-doll do not swivel, and the legs can not rotate. In 2012 29 mini-dolls were released. In 2013 21 new mini-dolls were introduced. In 2014 32 Friends mini-dolls were released.
The theme takes place in the fictional Heartlake City, and centres around the lives of five girls, Olivia, Mia, Andrea, Emma, and Stephanie, and their adventures in and around the city.
Olivia moves to Heartlake City because her dad got a large job at Heartlake Times. Olivia meets four girls, Andrea, Emma, Mia, and Stephanie, the girls quickly be friend each other. The friends start a friends club which takes part in 3065 Olivia's Treehouse. Common interests between the girls are horse back riding, baking, going to the beach, and shopping. The girls enjoy trying out each other's interests, Stephanie gets Emma a journalism job at Heartlake News.
The girls even travel the world together building homes for animals across the globe and rescuing baby animals in a jungle.
Descriptions from LEGO.com
[
edit
|
edit source
]

This is a description taken from LEGO.com. Please do not modify it. Welcome to Heartlake City
The LEGO Friends story centers on the everyday lives and personalities of five girls in a fictional hometown called Heartlake City. Each of the friends—Olivia, Mia, Andrea, Stephanie and Emma—has a distinct personality and interests, such as animals, performing arts, invention and design, that are reflected in the models. Building sets reflect different parts of town where the girls' adventures take place—downtown, suburbs, beach, camping grounds and mountains.

This is a description taken from LEGO.com. Please do not modify it. Join your 5 new friends in Heartlake City! LEGO® Friends is the story of five friends : Olivia, Andrea, Emma, Mia and Stephanie. They live in HeartLake City, a charming town built around a heart-shaped lake. Together they create the LEGO® Friends Club to share their secrets, organize parties and help the people of the city. These five friends are always ready for fun adventures!
A world of dreams to build! At the City Park Cafe in HeartLake City, you can design a place for Andrea and Marie to meet for a snack. Over at the Tree House, you can build a sky high lookout. Organize a barbecue, play with the cat Minou or redecorate any room in Olivia's house. Or you can build a clinic to take care of animals at the Heartlake City Vet's office with Sophie and Emma!
Want to meet the LEGO® Friends? Click here!
| | | | | | | |
| --- | --- | --- | --- | --- | --- | --- |
| Image | # | Set | Pieces | Figures | Price | Released |
| | 3061  | City Park Café  | 222  | Andrea, Marie   | $34.99 / €29.99  | 2012  |
| | 3063  | Heartlake Flying Club  | 195  | Stephanie   | $19.99 / €19.99  | 2012  |
| | 3065  | Olivia's Treehouse  | 191  | Olivia   | $19.99 / €19.99  | 2012  |
| | 3183  | Stephanie's Cool Convertible  | 130  | Stephanie   | $14.99 / €14.99  | 2012  |
| | 3184  | Adventure Camper  | 309  | Olivia, Nicole   | $29.99 / €29.99  | 2012  |
| | 3185  | Summer Riding Camp  | 1112  | Stephanie, Emma, Ella, Theresa   | $99.99 / €99.99  | 2012  |
| | 3186  | Emma's Horse Trailer  | 218  | Emma   | $19.99 / €24.99  | 2012  |
| | 3187  | Butterfly Beauty Shop  | 221  | Emma, Sarah   | $24.99 / €24.99  | January 2012  |
| | 3188  | Heartlake Vet  | 343  | Mia, Sophie   | $44.99 / €39.99  | 2012  |
| | 3189  | Heartlake Stables  | 401  | Mia, Katharina   | €54.99  | 2012  |
| | 3315  | Olivia's House  | 695  | Anna, Olivia, Peter   | $74.99 / €69.99  | 2012  |
| | 3316  | Friends Advent Calendar  | 193  | Olivia, Christina   | $34.99 / €19.99  | September 2012  |
| | 3930  | Stephanie's Outdoor Bakery  | 45  | Stephanie   | $5.99 / €5.99  | 2012  |
| | 3931  | Emma's Splash Pool  | 43  | Emma   | $5.99 / €5.99  | 2012  |
| | 3932  | Andrea's Stage  | 87  | Andrea   | $9.99 / €9.99  | 2012  |
| | 3933  | Olivia's Invention Workshop  | 81  | Olivia   | $9.99 / €9.99  | 2012  |
| | 3934  | Mia's Puppy House  | 64  | Mia   | $9.99 / €9.99  | 2012  |
| | 3935  | Stephanie's Pet Patrol  | 73  | Stephanie   | $9.99 / €9.99  | 2012  |
| | 3936  | Emma's Fashion Design Studio  | 79  | Emma   | $9.99 / €9.99  | 2012  |
| | 3937  | Olivia's Speedboat  | 65  | Olivia   | $9.99 / €9.99  | August 2012  |
| | 3938  | Andrea's Bunny House  | 62  | Andrea   | $9.99 / €9.99  | 2012  |
| | 3939  | Mia's Bedroom  | 85  | Mia   | $9.99 / €9.99  | 2012  |
| | 3942  | Heartlake Dog Show  | 183  | Mia   | $19.99 / €19.99  | 2012  |
| | 30100  | Andrea at the Beach  | 23  | Andrea   |   | October 13 2012  |
| | 30101  | Mia's Skateboard  | 28  | Mia   | $Free  | 2012  |
| | 30102  | Olivia's Desk  | 26  | Olivia   | $3.99 / €3.20  | 2012  |
| | 30103  | Emma's Car  | 32  | Emma   | $3.99  | 2012  |
| | 30105  | Stephanie and Mailbox  | 41  | Stephanie   | $4.99  | 2012  |
| | 30106  | Ice Cream Stand  | 34  | Emma   | $4.99  | 2013  |
| | 30107  | Birthday Party  | 39  | Andrea   |   | 2013  |
| | 30108  | Summer Picnic  | 33  | Mia   |   | 2013  |
| | 30113  | Stephanie's Bakery Stand  | 28  | Stephanie   |   | 2014  |
| | 30203  | Mini Golf Set  | 26  | Emma   |   | January 1, 2015  |
| | 41000  | Water Scooter Fun  | 28  | Kate   | $6.99 / €5.99  | 2013  |
| | 41001  | Mia's Magic Show  | 90  | Mia   | $9.99 / €9.99  | 2013  |
| | 41002  | Emma's Karate Class  | 93  | Emma   | $9.99 / €9.99  | 2013  |
| | 41003  | Olivia's Newborn Foal  | 70  | Olivia   | $9.99 / €9.99  | 2013  |
| | 41004  | Rehearsal Stage  | 198  | Stephanie   | $19.99 / €19.99  | 2013  |
| | 41005  | Heartlake High  | 487  | Stephanie, Matthew, Ms. Stevens   | $49.99 / €49.99  | 2013  |
| | 41006  | Downtown Bakery  | 253  | Danielle ,  Mia   | $29.99 / €24.99  | 2013  |
| | 41007  | Heartlake Pet Salon  | 242  | Emma ,  Joanna   | $29.99 / €29.99  | 2013  |
| | 41008  | Heartlake City Pool  | 423  | Andrea ,  Isabella   | $39.99 / €39.99  | 2013  |
| | 41009  | Andrea's Bedroom  | 75  | Andrea   | $9.99 / €9.99  | 2013  |
| | 41010  | Olivia's Beach Buggy  | 94  | Olivia   | $9.99 / €9.99  | 2013  |
| | 41011  | Stephanie's Soccer Practice  | 80  | Stephanie   | $9.99 / €9.99  | 2013  |
| | 41013  | Emma's Sports Car  | 159  | Emma   | $14.99 / €14.99  | 2013  |
| | 41015  | Dolphin Cruiser  | 612  | Mia, Andrew, Maya   | $69.99 / €69.99  | November, 2013  |
| | 41016  | Friends 2013 Advent Calendar  | 213  | Stephanie, Lily   | €19.99  | 2013  |
| | 41017  | Squirrel's Tree House  | 41  |    | $4.99 / €3.99  | 2013  |
| | 41018  | Cat's Playground  | 31  |    | $4.99 / €3.99  | 2013  |
| | 41019  | Turtle's Little Oasis  | 33  |    | $4.99 / €3.99  | 2013  |
| | 41020  | Hedgehog's Hideaway  | 34  | none   | $4.99 / €3.99  | 2013  |
| | 41021  | Poodle's Little Palace  | 46  |    | $4.99 / €3.99  | 2013  |
| | 41022  | Bunny's Hutch  | 37  |    | $4.99 / €3.99  | 2013  |
| | 41023  | Fawn's Forest  | 35  | Fawn   | $4.99 / €3,99  | 2013  |
| | 41024  | Parrot's Perch  | 32  | Parrot   | $4.99 / €3.99  | 2013  |
| | 41025  | Puppy's Playhouse  | 39  | Puppy   | $4.99 / €3.99  | 2013  |
| | 41026  | Sunshine Harvest  | 233  | Olivia   | $19.99  | 2014  |
| | 41027  | Mia's Lemonade Stand  | 112  | Mia   | $9.99  | 2014  |
| | 41028  | Emma's Lifeguard Post  | 78  | Emma   | $9.99  | 2014  |
| | 41029  | Stephanie's Newborn Lamb  | 78  | Stephanie   | $9.99  | 2014  |
| | 41035  | Heartlake Juice Bar  | 277  | Andrea, Naya   | $29.99 / €32.99  | 2014  |
| 50px | 41030  | Olivia's Ice Cream Bike  | 98  | Olivia   | $9.99  | August 2014  |
| 50px | 41031  | Andrea's Mountain Hut  | 119  | Andrea   | $9.99  | August 2014  |
| | 41032  | First Aid Jungle Bike  | 156  | Emma   | $14.99  | 2014  |
| | 41033  | Jungle Falls Rescue  | 183  | Olivia   | $19.99  | August 2014  |
| | 41034  | Summer Caravan  | 297  | Olivia ,  Joanna   | $29.99  | 2014  |
| | 40135  | Heartlake Juice Bar  | 277  | Andrea, Naya   | $29.99 / €32.99  | 2014  |
| | 40136  | Jungle Bridge Rescue  | 365  | Mia, Matthew   | $29.99  | August 2014  |
| | 40137  | Stephanie's Beach House  | 369  | Stephanie, Kate   | $39.99  | 2014  |
| 50px | 41038  | Jungle Rescue Base  | 473  |    | $59.99  | August 2014  |
| | 41039  | Sunshine Ranch  | 721  | Mia, Liza   | $69.99 / €69.99  | 2014  |
| 50px | 41040  | Friends Advent Calendar  | 228  | Mia, Ewa   | $29.99  | 2014  |
| | 41041  | Turtle's Little Paradise  | 43  |    | $3.99 / €3.99  | 2014  |
| | 41042  | Tiger's Beautiful Temple  | 42  | Tiger   | $3.99 / €3.99  | 2014  |
| | 41043  | Penguin's Playground  | 46  |    | $3.99 / €3.99  | 2014  |
| | 41044  | Macaw's Fountain  |   |    |   | 2014  |
| | 41045  | Orangutan's Banana Tree  | 37  |    | $3.99 / €3.99  | 2014  |
| | 41046  | Brown Bear's River  |   |    |   | 2014  |
| | 41047  | Seal  | 37  |    | $3.99 / €3.99  | October 2014  |
| | 41048  | Lion  | 43  |    | $3.99  | October 2014  |
| 50px | 41049  | Panda  | 47  |    | $3.99  | October 2014  |
| | 41056  | Heartlake News Van  | 278  | Emma, Andrew   | $24.99 / €24.99  | 2014  |
| | 41057  | Heartlake Horse Show  | 355  | Stephanie, Robert   | $39.99  | 2014  |
| 50px | 41058  | Heartlake Shopping Mall  | 1120  | 4   | $109.99  | August 2014  |
| 50px | 41059  | Jungle Tree Sanctuary  | 320  | Mia   |   | 2014  |
| 50px | 41085  | Animal Care Clinic  | 192  | Mia   |   | 2015  |
| 50px | 41086  | Mobile Pet Care  | 89  | Emma   |   | 2015  |
| 50px | 41087  | Rabbit Mother with Babies  | 47  |    | $4.99 / €4.99  | 2015  |
| 50px | 41088  | Puppy Training  | 65  |    | $4.99 / €4,99  | 2015  |
| 50px | 41089  | Foal Care Stable  | 43  |    |   | 2015  |
| 50px | 41090  | Olivia's Garden Pool  | 82  | Olivia   | €11.99  | 2015  |
| 50px | 41091  | Mia's Sports Car  |   | Mia   |   | 2015  |
| 50px | 41092  | Stephanie's Pizzeria  | 87  | Stephanie   |   | 2015  |
| 50px | 41093  | Heartlake Hair Salon  | 318  | Emma, Natasha   | $29.99 / €32.99  | 2015  |
| 50px | 41094  | Heartlake Lighthouse  | 473  | Stephanie, Kate   | $39.99 / €39.99  | 2015  |
| 50px | 41095  | Emma's Family Home  | 706  | Emma, Charlotte, Luis   |   | 2015  |
| 50px | 41097  | Heartlake Balloon  | 254  | Andrea, Noah   | $19.99 / €29,99  | 2015  |
| | 41098  | Emma's Tourist Kiosk  | 98  | Emma   | $9.99  | 2015  |
| | 41099  | Heartlake Skate Park  | 199  | Mia   | $19.99 / €19.99  | 2015  |
| | 41100  | Heartlake Private Jet  | 230  | Matthew, Olivia   | $29.99 / €24.99  | 2015  |
| | 41101  | Heartlake Grand Hotel  | 1552  | Andrea, Nate, Olivia, Stephanie, Susan   | $119.99 / €119.99  | 2015  |
| | 41102  | Advent Calendar  |   | Andrea, Liza   | $29.99  | 2015  |
| | 41103  | Pop Star Recording Studio  | 172  | Olivia   |   | 2015  |
| | 41104  | Pop Star Dressing Room  | 279  | Emma, Livi Star   | $29.99 / €24.99  | 2015  |
| | 41105  | Pop Star Show Stage  | 446  | Andrea, Livi Star   |   | 2015  |
| | 41106  | Pop Star Tour Bus  | 682  | Livi Star, Mia, Stephanie   | $59.99 / €59,99  | 2015  |
| | 41107  | Pop Star Limousine  | 265  | Livi Star, Olivia   | $24.99 / €24.99  | 2015  |
| | 41108  | Grocery Store  | 388  | Mia, Maya   | $38.99 / €39,99  | 2015  |
| | 41109  | Heartlake City Airport  |   | David, Sandra, Stephanie   | €89.99  | 2015  |
| | 41110  | Birthday Party  | 191  | Andrea   | €19.99  | 2016  |
| | 41111  | Party Train  | 109  | Stephanie   | €9.99  | 2016  |
| | 41112  | Party Cakes  | 50  | Pug   |   | January 2016  |
| | 41113  | Party Gift Shop  | 52  | Minu, Mini   | $4.99 / €4,99  | 2016  |
| | 41114  | Party Styling  | 54  |    |   | 2016  |
| | 41115  | Emma's Creative Workshop  | 108  | Emma   | €9.99  | 2016  |
| | 41116  | Olivia's Expedition Car  | 185  | Olivia   | €19.99  | 2016  |
| | 41117  | Pop Star T.V. Studio  | 194  | Livi Star   | €24.99  | 2016  |
| | 41118  | Heartlake Supermarket  | 313  | Mia, Daniel   | €34.99  | 2016  |
| | 41119  | Heartlake Cupcake Café  | 439  | Stephanie, Naomi   | €39.99  | 2016  |
| | 41120  | Adventure Camp Archery  | 114  | Mia   | €9.99  | 2016  |
| | 41121  | Adventure Camp Rafting  | 320  | Andrea, Olivia   | €29.99  | 2016  |
| | 41122  | Adventure Camp Tree House  | 726  | Emma, Stephanie, Joy   | $79.99 / €69,99  | 2016  |
| | 41123  | Foal Washing Station  | 77  | Emma   | $9.99 / €9.99  | 2016  |
| | 41124  | Heartlake Puppy Daycare  | 286  | Mia, Andrea   | $29.99 / €29.99  | June 1, 2016  |
| | 41125  | Vet Horse Trailer  | 370  | Olivia, Sophie   | $39.99 / €39.99  | 2016  |
| | 41126  | Heartlake Horse Riding Club  | 575  | Stephanie, Mia   | $49.99 / €64.99  | 2016  |
| | 41127  | Amusement Park Arcade  | 174  | Mia   | $14.99 / €14.99  | 2016  |
| | 41128  | Amusement Park Space Ride  |   | Olivia   | $19.99 / €19.99  | 2016  |
| | 41129  | Amusement Park Hot Dog Van  | 243  | Stephanie, Nate   |   | 2016  |
| | 41130  | Rollercoaster  |   | Andrea, Emma, Matthew, Naya   | $99.99 / €99.99  | 2016  |
| | 41131  | Friends Advent Calendar  | 218  | 2   |   | 2016  |
| | 41132  | Heartlake Party Shop  | 176  |    |   | 2016  |
| | 41133  | Bumper Cars  | 774  | Olivia, Ben   | $39.99  | 2016  |
| | 41134  | Heartlake Performance School  | 774  | Andrea, Iva, Noah   | $79.99 / €79,99  | 2016  |
| | 41135  | Livi's Pop Star House  | 597  | Andrea, Livi Star   | $49.99 / €54.99  | 2016  |
| | 4659602  | Display Stand  | 17  |    |   | 2012  |
| | 5000245  | Stephanie  | 5  | Stephanie   |   | 2012  |
| 50px | LEGO  | Friends Lemonade Stand Promotion  |   |    |   | 2012  |
| | | | | | |
| --- | --- | --- | --- | --- | --- |
| Image | Set | Pieces | Figures | Price | Released |
| | LEGO Friends Special Edition | | | Free | 2012 |
| | Friends Forever | | | US $3.99 | 2012 |
| | Welcome to Heartlake City | | | US $3.99 | June 18, 2012 |
| | Brickmaster Friends | 103 | Mia, Chloe | US $29.99 | September 17, 2012 |
| | New Girl in Town: Mini Movie Chapter Book (LEGO Friends) | | | US $4.99 | 2013 |
| | Ultimate Sticker Collection: LEGO Friends | | | | 2013 |
| | LEGO Friends: Let's Go Riding! | | | US $14.99 | February 18, 2013 |
| | LEGO Friends: Lights, Camera, Girl Power! | | | US $4.99 | March 1, 2013 |
| | LEGO Friends: Olivia's Rainbow | 13 | Maxie | UK £6.99 | March 7, 2013 |
| | Meet the Friends | | | US $3.99 | April 30, 2013 |
| | LEGO Friends: A Treat for Goldie | 15 | Goldie | UK £6.99 | May 2, 2013 |
| 100px | LEGO Friends: A Day in Heartlake City | | | | August 1, 2013 |
| | LEGO Friends: A Puppy Tale | | | | August 1, 2013 |
| | LEGO Friends: Andrea Takes the Stage | | | | August 1, 2013 |
| | LEGO Friends: Emma's Big Splash | | | | July 29, 2014 |