From Brickipedia, the LEGO Wiki
7994 LEGO City Harbour is a City set released in 2007. It contains a harbor, a gantry crane, a cargo ship, two containers of cargo that can be lifted by the crane, a speed boat, a pallet, a cargo truck, 5 Minifigures, and several other accessories.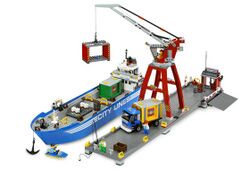 The rotatable level gantry crane has a control cabin and is mounted on four support struts. On one end of the wharf is a small building with a turnpike in front of it.
The cargo ship's hull is one piece and watertight, so it can float. It has a large enough cargo area to accept four containers at once without stacking. The ship's superstructure at the aft houses the main bridge. At the bow is an anchor on a winch. Behind the winch is a small recess in the deck where the anchor can be stored.
The truck's bed can hold just one of the two included containers. Also included is a pallet with four oil drums and a cargo frame which can hold the included motor boat.
The set 7992 Container Stacker contains a container that is identical in design to the ones included here and is also compatible to the cargo ship.

This is a description taken from LEGO.com. Please do not modify it. It's always busy at the LEGO City Harbor!
Drop the anchor, the cargo ship is at the LEGO City Harbor. Use the massive pier crane and cargo truck to empty the cargo ship and get it ready for its next destination. Cargo ship really floats! Cargo ship measures 23" (58 cm) long! Raise and lower the ship's anchor! Crane is over 19" (48 cm) tall! Crane spins 360 degrees! Crane arm moves side to side and up and down! Raise and lower the crane's hook to load and unload containers! Port measures 27" (69 cm) long! Includes 2 containers, pallet, cargo truck and speed boat! Includes captain, fisherman, 3 worker minifigures and lots of accessories!