9525 Pre Vizsla's Mandalorian Fighter
From Brickipedia, the LEGO Wiki
Pre Vizsla's Mandalorian Fighter

Item №:

9525

Pieces:

403

Minifigures:
Price:
$49.99
€49.99
£49.99
$89.99

Additional prices:

Kč999.00

$99.99

Ages:

8-14

Released:
Theme:

9525 Pre Vizsla's Mandalorian Fighter is a Star Wars set released in 2012. It includes three minifigures: Obi-Wan Kenobi, Pre Vizsla, and a Mandalorian, as well as Pre Viszla's starfighter.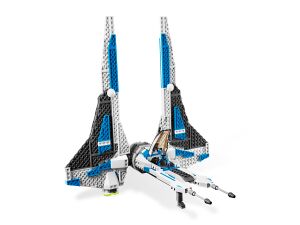 Pre Vizsla's ship has a predominantly grey, white, and blue colour scheme. The cockpit area which can seat two minifigures extends on from the body of the ship connecting the two wings together, and these wings have the ability to rotate, revolving around the center of the ship. The wings have the ability to rotate perpendicularly to the body's rotation, meaning that they can go up and down, depending on whether the ship is in flight or landed, where the wings are vertical. A landing strut mounted beneath the cockpit area can be folded down during landing. The ship has two forward blaster cannons, which can move from side to side, and two rear cannons, which are mounted on a spinning circular piece. Two engines are mounted on the back of each wing, and the centre of the body of the ship can be lifted up to reveal a container representing a locked safe which can be taken out of the ship. The set includes three minifigures: Pre Vizsla with a darksaber who is exclusive to the set, a Mandalorian with a blaster pistol, and a The Clone Wars version of Obi-Wan Kenobi with a blue-bladed ligthsaber.
The Gauntlet was a Kom'rk-class fighter/transport owned by the leader of the Death Watch during the Clone Wars, Pre Vizsla. Along with all of the other fighters of the same make, the Gauntlet was for the most part kept at the Death Watch's secret base Concordia, Mandalore's moon. When Obi-Wan Kenobi discovered the base, it was successfully evacuated after Vizsla managed to hold off Kenobi for some time by engaging him in a duel.

This is a description taken from LEGO.com. Please do not modify it. (visit this item's product page) Lead the Mandalorians into battle!
Intent on returning the Mandalorians to their warrior ways, Pre Vizsla is returning to his secret base in his Mandalorian Fighter, the Gauntlet, after striking a deal with the evil Separatists. Can Obi-Wan follow him and prevent Pre Vizsla from plunging the galaxy into turmoil? The Gauntlet features rotating wings and turning cockpit for flying or landing modes, retractable landing gear, opening cockpit and cargo hatch. Includes 3 minifigures: Pre Vizsla, Mandalorian and Obi-Wan Kenobi.
Includes 3 minifigures: Pre Vizsla, Mandalorian and Obi-Wan Kenobi
Features rotating wings and cockpit, retractable landing gear, opening cockpit with space for 2 minifigures, darksaber compartment and cargo hatch
Accessories include medium blaster, Obi-Wan's Lightsaber and Pre Vizsla's darksaber
Rotate the wings!
Battle Obi-Wan!
Load up the cargo!
Pre Vizsla's Mandalorian Fighter™ measures over 2"(6cm) high, 12" (32cm) wide and 12" (33cm) long