From Brickipedia, the LEGO Wiki
Disco Dance Challenge

Theme:
Released:
Playable Minifigures:
Play the game:
Disco Dance Challenge is an Online Game on the Collectable Minifigures website. It stars the Disco Dude and Pop Star.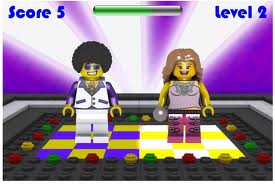 The player sarts by selecting his or her character, Disco Dude or Pop Star, and then watches the other character perform a series of dance moves, the player then repeats the sequence using the arrow keys. Every time you correctly repeat the moves you move up a level. There are five levels, like every minifigure game. It is very similar to Dance Master.