From Brickipedia, the LEGO Wiki
This minifigure has only appeared in movie(s)
Although this article is about an official minifigure, it never existed in physical form, or appeared in any official LEGO sets.
Arthur Fol, Artie as he is known by his friends, and abbreviated A. Fol was a minifigure who worked for the same organization as Clutch Powers as a scientist.
Background
[
edit
]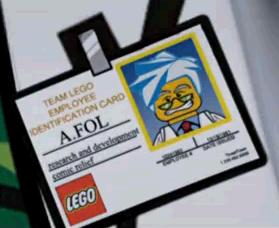 Arthur works for the same organization as Clutch Powers as a scientist. He is the creator of the Galactic Enforcer, which serves as Clutch's mode of transportation towards Planet X4.
He is well-meaning, yet clumsy when he gets overexcited in the presence of Clutch Powers. He claims to be Clutch's "number one fan". He also has a crush on Peg Mooring, one of the members of Clutch's team.
On his nametag he is referred to as A. Fol. It says his specialization is Research, Development, and comic relief.
Physical Appearance
[
edit
]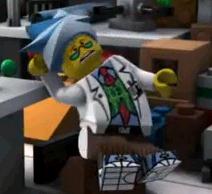 Artie has spiked light blue hair, and his head is a normal one besides the fact that he wears glasses. His torso depicts him wearing an open lab coat, with a vest and tie underneath. He is the only LEGO minifigure who has been seen wearing actual shoes.
Appearances
[
edit
]
Arthur has appeared exclusively in LEGO's first movie, The Adventures of Clutch Powers. He appears as the scientist who introduces Clutch Powers and his team's ship. He is also there to provide temporary comic relief and a break before the action begins on Planet X4.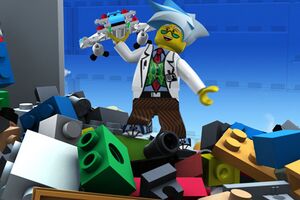 Behind the Scenes
[
edit
]
Arthur Fol's voice is provided by Jeff Bennett in the movie. Jeff Benett has voiced in various television shows. He also provides the voice for Bernie Von Beam in the same movie as Arthur Fol. Ironically, both characters voiced by Jeff Benett have a crush on Peg Mooring.
Jeff Benett has done voice work in two other LEGO movies: LEGO Atlantis: The Movie (as Dr. Jeff 'Fish' Fisher) and BIONICLE: The Legend Reborn (as Strakk).
Artie's hair is same hair of the Professor Brickeeper. He is an scientist, just like Arthur Fol.
The abbreviation of Artie's name as shown on his name tag, "A.FOL", is a play on AFOL, or Adult Fan Of LEGO.