From Brickipedia, the LEGO Wiki
Emerald Night

Item №:

10194

Pieces:

1085

Minifigures:

3

Price:

$99.99
€89.99
£69.99
$149.99

Ages:

14+

Released:
Theme:
10194 Emerald Night is a Trains themed set released in 2009, and discontinued in 2012. This set was never available in stores, making it exclusive to Shop At Home (except in Australia where it was available at Myer department stores). It contains 1085 pieces including 3 minifigures.
This set contains an A3 Pacific type steam locomotive, a tender and a dining car. This set does not include train track and motor. However, it can be motorized by adding the new Power Functions XL motor, IR Speed Remote control,, IR Receiver, LED Lights and rechargeable battery box introduced at the same time with this set. The instruction of 10194 includes the steps of adding Power Functions motor. This is also the first train to have the new "large train wheels," four of them moulded with a flange, and two of them moulded blind. The flanged wheels include a rubber band for the train wheels to grip the track when the power functions motor is implemented. The blind wheels are made so the train can navigate standard LEGO curves.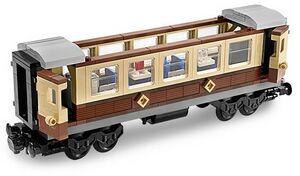 The train is composed of three portions: the engine, the tender and the passenger vehicle. The engine is the most important piece of the train. It is primarily dark green and black. The majority of the engine section is the train engine, while the back is a "room" for the driver to stand in. In the cab is a shovel and an opening firebox door with flames behind it. The wheels of the engine section are either small wheels which are independent of the main wheels in order to allow the train to handle curves, and two sets of three wheels connected by a rubber band in the section where a Power Functions Motor could be placed. There is also a smokestack in the front.
The middle section is the tender. It has a pair of doors which can cover the "door" between it and the Conductor's cabin. It has a small ladder in the back and like the engine is primarily dark green and black.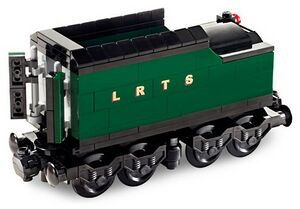 The final portion of the train is the passenger car. While the car is not available for purchase separately, it has not only stickers saying "First" and "1", but also extra stickers that say "Second", "2", "Third", and "3" for people who make their own cars or get extras. The passenger car has a removable roof. It has four doors, two on either side, as well as openings for travel between passenger cars. There are seats inside, as well as tables, a cabinet and two spaces to hold the suitcases.
K10194 Emerald Night Collection was introduced in LEGO shop@home online to include the 10194 train set with a full set of accessories to motorize the train.

This is a description taken from LEGO.com. Please do not modify it. All new LEGO classic!
With piston-powered wheels, this train is an all-new LEGO® classic! Here comes the Emerald Night! Build this incredible classic-styled train with loads of amazing details, from the steam locomotive with furnace to the opening tender and dining car with removable roof, opening doors and detailed interior. Measures 27.2" (68cm) long! Includes three minifigures, elements in rare colors and all-new large train wheels with piston motion! Add LEGO® Power Functions to motorize. This classically-styled train features a steam locomotive with furnace, opening tender, dining car with removable roof, opening doors and detailed interior! Train measures 27.2" (68cm) long Lots of authentic touches including elements in rare colors and all-new large train wheels with piston motion! Includes 3 minifigures! Motorize your Emerald Night by adding LEGO Power Functions #8882 Power Functions XL Motor, #8867 Flexible Train Track, #8878 Power Functions Rechargeable Battery Box, #8887 Transformer 10v DC adapter, #8884 Power Functions IR Receiver,#8870 Power Functions LED Lights, #8879 Power Functions IR Speed Remote Control!